My husband told me thousands of times he would like to see another man making love to me... well actually fuck me. Feeling a little betrayed, finally realizing it was only a fantasy I started ignoring it.
One extremely miserable evening shift at the hospital, Julie (a single redhead that Gene says has an awesome body), Kim and I decided to stop for a quick drink. As we chatted a black man came and sat by Julie who introduced "Webb". After the initial unsettling surprise, he asked Kim to dance. She left soon after for a long drive home and said he was a terrific dancer then he asked me.
While dancing, he told me I was a hottie, and hinted I take off my bra. Stunned I started to leave, telling Julie why. She laughingly said, "Let's both take them off!"
Unsure why, I did but my nipples hardened as my tits rubbed against Webb as we danced. Trying to ignore and avoid his hard cock against me, but it excited me. But when he whispered that he would love to "breed" me, huge alarm bells went off and I was out of there.
On the way home, I realized I was soaking and very horny. I woke Gene up and wanted him to make love to me but no questions or discussions. A couple of orgasms and Gene's cum quenched my fire, letting me sleep and forget the whole thing. I know Gene didn't forget, was curious and suspicious but never asked.
A few evenings later, Webb stopped at my desk to say hi and chat. At lunch Julie said he wanted to meet me for drinks and laughs, sex was not part of the date. Julie asked if I'd ever been with a black man. Telling her it was none of her business, but no. She said should try it and Webb would love to "jump my bones". Angrily, shocked and uncomfortable I told her to butt out.
I told Gene about us stopping for drinks that evening and about Webb and Julie and him stopping by my desk when visiting someone, but not everything. My husband asked if Webb was trying to fuck me, he hoped I would do it, he'd love to hear me tell about a big black cock filling my pussy with sperm.
A few days later Webb stopped and persuaded me to meet him. A nurse on my floor just earned her RN and I claimed that there was a celebration, Kim, Julie, several more workers, and friends, including Webb and I'd like to go. My husband got immediately excited and agreed to let me, so I told him. "Don't get your hopes up, this is not a date!
"Of course, you can go, but I will choose your outfit!" he replied.
I knew he suspected the "group get together" was a lie especially when he insisted I wear a full front zippered mini skirt, a silky not quite transparent blouse, no bra, and wanted no panties, but we settled on sexy, crotchless panties. Telling me he wanted the mini skirt unzipped "a fucking lot" and my blouse unbuttoned "to better show your tits and nipples", I asked if he was trying to get me fucked then he told me, "I'm certain you have already decided about that and I'm hoping. Regardless I will have a hard-on all night!"
Watching his reaction I offered, "I am sure he would be eager to plant a black baby in my belly tonight and maybe some of his friends would help him if you want!"
His look of lustful anticipation and enthusiastic reply of "Try not to come home with an empty pussy!" assured me he would not object, even hoped I'd come home well fucked.
Truth time here: I had gone to dinner and drinks with Webb twice and ended up naked on his bed legs spread wide and steering his big black cock into my wet pussy. I eagerly thrust back meeting his 9 inches as his nuts slapped my ass, completely losing count of my orgasms. But we I felt Webb's rhythm change to jerky and his cock seemed to swell more, I begged: "Don't come in me"!
He had me doubled up, my legs over his shoulders thus helpless to prevent his huge black cock from pumping my upturned pussy full of his semen, and was even more stunned that I opened wider to allow him in deeper. After Webb deposited what felt like a pint of semen into me and was resting on me I quickly did some quick calculations and realized it was reasonably safe. Webb seemed unmindful I could get pregnant and as I waited for him to go soft and drop out, I realized he was still hard and soon started fucking me again coming in me 20 or 30 minutes later. As I was draining his huge loads into his toilet, he asked if I wanted to "go out" again.
As I expected the next time we went directly to his apartment and I was naked immediately. I discovered he had several cameras to record and could broadcast any activity in his apartment on a private password-protected internet site. (He also owned a bar with the same setup.) Webb showed me the internet site and I quickly and uncomfortably saw many views of me at his computer and views throughout his apartment to the Net. I was informed that up to 35 people would watch everything we (I) did. I was further displeased and shocked to see photos of me and realized several people watched me getting fucked before. He told me this would be not only recorded but broadcast live as well. It took some convincing but finally, I realized that being watched like a porn queen excited me. I suddenly wondered if my husband had found this site and was watching his naked white wife on the internet and about to be fucked - again, Standing where most cameras would "watch" me, I played with my tits and pussy, watching Webb's cock get bigger and harder.
His doorbell chimed and he made me answer it naked. It was "James" who wanted to meet me. "Fuck me, you mean?" I objected receiving no answer. On a huge "monitor" I watched both James and Webb fucking me, twice thinking it looked erotic. James was pounding my pussy the second time when I realized that a third black man had arrived. Knowing it was useless to complain I finally got his foot-long black cock and huge load inside me. I discovered 14 viewers had watched me on that internet site take those 5 big loads of sperm with 5 or 6 "great" comments about me and close-ups of me and my overflowing pussy. I knew I would be back. Webb assured me that my husband most certainly was not one of the watchers, but probably didn't even know about that site - - - yet, but I would be required to tell him so he could watch me get pregnant.
We now are back to my husband's approved meeting with Webb. Webb had warned me on our next date (this one) we'd go to his favorite hangouts (actually the bar he owned). He directed me to wear clothes to display my tits and pussy in his bar so Gene's choice was perfect. His friends were expecting me and would enjoy my show and might, even doubtless, ask (or tell) me to show more or even get completely naked. I was expecting I would get fucked in the bar, likely several times. Webb wanted me to be fertile; hoping I would get pregnant. After the bar, we might go to his apartment for a smaller gang bang. I would be live on his website in both places. I told Webb of my husband's disbelief on tonight's story and his fantasy and not objecting that I may be fucked and he suggested telling him of the website, giving him the password so he could watch me.
We had dinner and drinks and a few laughs, soon heading for Webb's bar next. As we were on the way to his bar Webb told me now was the time to quit, otherwise, he wanted my panties gone, blouse unbuttoned and my mini unzipped to flash my pussy. When I said nothing, Webb told me that about 6 men at the bar were eager to meet me. Having been fucked several times by three guys one night I decided I could take six or seven men.
He insisted I call my husband telling him I am having a good time and told him we were going to a dance bar. I decided to hint and tease him a little saying, "You would love how my clothes are arranged. No more panties, my blouse is unbuttoned to my waist and my skirt shows my pussy".
I could hear the excitement in his voice when he said "Really? Oh please let everyone come inside your pussy!"
Before I could answer, Webb took the phone asking my husband if he meant that and if he had no objections if I fucked other men even black men. Gene's affirmative answer, Webb told him to write down the Internet web address and password, asking him read it back.
Webb led me into the bar, announcing "This is Barb; most of you have heard me talking about her."
A couple of guys came to greet us; one had a "pendant' he put around my neck taking some pains to fumble my breasts, explaining it was a sensitive microphone for the internet video system and I should always wear it so the viewers could hear "every-fucking-thing". Glancing at a TV, I saw I was showing most of my tits and frequent flashes of my pussy. He said "I am called Duke, we have heard about you, but not how pretty you, your tits and pussy are. We love exhibitionist wives and you're displaying nicely. We enjoyed watching you take on the brothers a couple of weeks ago too. Frankly, we all would like you to get naked soon." then stepped aside so I could join Webb.
Webb had a martini waiting for me and we chatted while I watched myself on the TV monitors aware I was being recorded and broadcast in real time on his site. My nipples were hard and swollen and my patch of brown straight pubic hair was on display from one of several cameras. Webb checked something and told me Gene was watching now. I was getting very turned on being quite exposed in a bar full of horny black men and especially knowing my husband could see me.
I noticed Duke coming behind me and he swiveled me around and expressed disappointment I still had clothes on. Then he nudged my knees apart and undid the 2 or 3 buttons on my blouse sliding it off my arms. With him between my knees, my cunt was barely hidden by my mini skirt. Duke solved that by finishing unzipping the skirt and it flopped down the sides of the stool and I was completely exposed and getting wet.
Duke dropped his pants, displaying his long and thick and very black hard throbbing cock. Webb pulled me back resting against him and lifting my knees and spread my legs wide to give his buddy Duke access to my cunt lips. I said, "I don't think that thing can fit in my pussy, do you?"
Getting it wet on my pussy juices he thrust in and out gaining entry an inch at a time, then 2 inches was in me then 3 and 4 inches was in my cunt. As a huge orgasm swept over me, I realized that I had been thrusting back and spreading my knees wider helping Duke to fully penetrate me. Soon he was balls-deep in me. I noticed I was on a monitor viewed from above with my naked legs wide apart and a naked black man thrusting a long shiny cock in and out of my white pussy while leaning against another black man who was playing with my naked tits and was certain my husband had the same view.
"I am going to come in you," he told me as his black cock drove in and out of my white pussy. I came again as he said that. He started fondling my tits, suddenly it seemed every hand in the place was on my body. I begged him. "Oh God, PLEASE don't cum in me. I think I am fertile, please don't!" He looked at me and smiled and told me every man I fucked would pump his sperm inside me and then slam deep into me. His eyes rolled back and he started to quiver and groan. I was amazed I felt his huge blasts of sperm deep inside of me. Spreading my legs even wider for him, I came again. Then he softened, dropped out of me, and stepped away.
Realizing that I was holding my legs up and wide apart I wondered who was next then another black man stepped between my legs, easily slid fully into me, and began fucking me hard. As several organisms overtook me, I thought, "Good God, I am naked and being publicly fucked in by black men in a bar by strangers. Gene is probably watching me and loving it." Two more black men deposited their seed inside me while I sat on that chair.
After the fourth load of sperm, I went to clean up. On the way back to the bar to get dressed I was intercepted hoisted onto the pool table and fucked twice while I noticed that all the TVs were still showing me spread out wide as a black man stood between my legs working hard to give me more sperm and wondered how many had viewed my breeding.
As soon as we entered his apartment, Webb had me sign in to the site, which displayed my naked and distinct photo on the intro page then ask if my husband was there. I typed the question and immediately an icon lit up, it was him and I saw I was on camera along with several screens showing different views of the apartment. Gene responded to my inquiry instantly so did about a dozen more, some with cameras also, asking my name. I was typing a reply when I saw someone texting my husband to ask if I was his wife and he was certain he had watched me getting black fucked a couple of weeks ago. This idiot must have been among the several people who watched me naked and fucking, from many angles the last time I was here.
Webb gave me a martini then put on some music and we danced before I saw his response. I was not allowed to dress when we left the bar and he steered me to the bed. Suddenly I was on my back, legs spread and Webb was between them. I reached down and guided his now raging hard cock to my still sperm-slicked pussy lips and he slid inside of me in two strokes. I saw another camera on the ceiling of all places and realized my husband was again watching me being black fucked like a cum slut, gently at first then harder and harder. I loudly implored him not to come in me, for my husband's sake but spread wide when I felt him pumping his sperm deeper inside me. I saw a monitor showing Webb's ass and balls as he worked his load into me, then as he dismounted a remarkable view of his cock dropping out my pussy with Webb's load drooling from my lips and topped by my smiling face looking down between my spread legs. I realized we were not alone anymore as Webb dismounted me; two other naked and hung black men were in the room and eager to fuck me. Before they could take me, I saw several more cameras focused on me.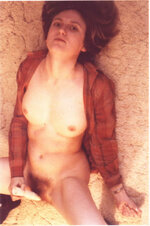 After showering and cleaning many cum loads from my pussy, they escorted me to my car, put my folded clothes in the back seat, and sent me home. I called asking if he wanted a naked, well-fucked, and possibly knocked-up slut back. He told me to hurry and get my beautiful cunt home as he had a load for it also and his nuts ached. When I walked in carrying my clothes, Gene fucked me on the couch, coming in me in a dozen strokes. He loved watching the 7 or 8 blacks fucking me and pumping their sperm inside me. As he was inside me in bed, I talked about the bar and he said several guys on the website had told him they had watched me at least twice. He suspected I had been playing around for a couple of months. Then I told him I was invited back the next day by 7 or 8 men to make sure I had a baby planted inside of me. He wanted to know if he could come to watch or at least he would drop me off naked and pick me up again.
He told me while waiting for me to get home he had explored that website. I was featured in a couple of videos so apparently, Webb broadcast me every time I was there and he has watched lovely Julie being fucked several times plus there were a few other white women, one was a woman we knew very well. One or two got pregnant there and subsequent clips showed the bellies getting larger each clip.
Gene told me I was to go back to that bar each month until my belly was swollen for 7 months or more. I bought a long coat to wear, why get dressed when I would be stripped the instant I got there and sent home naked?
Reactions:
Mobb, fllcouple, fallingtopieces and 13 others