Day 1 awards dinner and a surprise

By Barbara

​
I meet my husband several months after the company I worked for in Maine promoted and transferred me to Central New York State when I was in my early 20s. Now, a few years later, I'm married, 5'7", 125 pounds, with green eyes, and B cups. My long, slender legs looked good and my pubic area was trimmed to a bikini triangle of straight light brown hair.
I inherited several work problems, one was several office girls would party in the office with the guys, and some were very intimate. Other procedural issues were in the three outlying satellite branches requiring frequent visits but I finally solved the problems. One girl told me that she was always late because her "partying" was important, I told her I accepted her resignation and a few other girls quit but most decided to follow my rules which led to my nickname Mary Poppins because of my Maine conservatism and expectations of proper work procedures. There were several local, regional, and sectional meetings and conferences lasting one to three days plus the annual Corporate National Conference, held at resorts or cities around the country lasting a work week. I worked hard in hopes of earning the right to attend the National and a couple of years later I got an invitation. Usually, meetings lasted until mid-day or so, followed by sightseeing trips, golfing, organized other activities or free time, and, of course, parties, naturally, alcohol flowed very freely at these activities.
The New Orleans trip was my 4th or 5th, I spent the Saturday before making the week easier for my assistant. Gene hated these trips but knew how hard I worked for them and decided to pack for me. The previous week had been a bear, he assured me he had packed all I would need for the Sunday departure. When I unpacked Sunday evening I regretted my perfunctory checking of his work. A few proper casual and business clothes were packed but so were my sexy night-out play sheer blouses, short skirts, thigh-high stockings, and mostly sexy, transparent bras and sheer or crotchless panties, oh yes condoms, and a vibrator.
My sexual adventures were very minimal before I met "my man" and I was surprised that he loved me to show off my body, erroneously believing I was more beautiful and sexy than was the truth. Other men looking and admiring me turned him on, he liked me going braless and topless, showing much skin where ever I could. He loved me to ride naked and use my vibrator on road trips allowing truckers, van drivers, or anyone higher to see me. I admit being excited having no idea how many men saw me naked and watched me come with a vibrator. He told me many times I could fuck other men, he'd love to watch, and asked every time I returned from a trip if I got fucked. knowing all this, I was dumb for not checking more closely.
New Orleans arrival day, Sunday, was registration, room assignments, schedules and meeting assignments and greetings of friends from other branches, and sign-ups for the various company-sponsored activities, then casual, small impromptu parties. I was very disappointed at check-in because a long-time friend, former boyfriend and now employed by the company was absent. Jerry and I dated in high school but college ended our relationship. Later we met at a 3-day meeting and got together. The last night, we were in his room, and I wanted to let him inside me. My tits were exposed to him, he was pulling my panties down and the hotel fire alarm went off. His duty was, in that case, to make sure all company people got out, we hurriedly dressed and everyone gathered where ordered to. We could not get back together and I had every intention to spend at least one night in his bed with him inside me but a death in his family killed that idea.
Monday's meetings went to mid-afternoon followed by the evening's awards dinner, cocktails at 5, then dinner and awards for meeting or exceeding last year's goals. I was surprised to receive three national awards for my work that was a big deal meaning raises, promotion offers from larger branches, divisions, or even HQ could be forthcoming.
I found a long yellow dress I thought was OK for the dinner, certain the sheer underclothes would be fine. From previous conferences and meetings, we had formed a group that usually hung out together, three guys from my office, a couple from the west coast and from the Midwest, in total it was seven to nine men, me, and occasionally another admin manager from Illinois but she wasn't there this year. After dinner, our group found a quiet corner in the bar, this time to celebrate my "trophies" and talk. I usually have a couple of glasses of wine all evening, but Randy, a fit black man from my office insisted that one martini was more in order, I barely noticed my martini always seem nearly full. Not quite an hour later it was decided to move to someone's room to continue our "party".
But when I stood up, I realized I was a bit tipsy and was also shocked to see myself in a mirror. There was an unnoticed "black light" in that area that made my dress and undergarments transparent as sheer curtains, my breasts, nipples, pubic hair, and even my navel were mortifying visible. I remember gasping "My God, look at me!" and Richard said they had been and were wondering how to get those "veils" off me. I had to giggle at that and asked, "Yeah, then what?"
They all chuckled as he answered, "Seven guys have been admiring your lovely breasts and occasional glimpses of that dark patch for nearly an hour, what do you think, now what is?"
I was tipsy enough to giggle again and said, "Won't happen," as soon as I left that light, my clothes reappeared.
In the elevator heading to change, I was assured they had no idea about the light when they grabbed the table but then were not about to move "We all agree you have a delicious body." I was shocked but being used to their remarks and humor, it soon passed.
I still had quite a buzz when I called my husband for the usual daily contact. He was very proud of my accomplishments and delighted when I gave him hell about my clothes and the black light embarrassment saying, "Maybe that preview will be a driving force to gang fuck that delicious body of yours!!" I told him to get serious and forget it!
I found my usual group I hung out with, 4 to 8 guys and 2 to 5 women that I was comfortable with. I walked in and was served a usually avoided martini that had a negative impact on my judgment, on a silver platter (tinfoil) to honor my awards. The usual fooling and kidding around continued, they were especially disappointed to see I'd changed into a short skirt and blouse but were happy that I had kept the thigh-high stocking and heels, I expected a hosing about that anyway.
I was pushing my drink limit when the guys and a couple of us girls started the usual penny ante poker game while gossiping, talking, and joking, soon the girls drifted off to other parties. After we'd been drinking and playing for a while, the pot was an astounding dollar, when a suggestion to switch to strip poker came out. Brenda (We were nearly the same size and build) and I had played it before but stopped as soon we girls became uncomfortable with our "losses". I thought it was a very poor idea due to my intoxication but the seven guys promised I could quit anytime and reminded me they had seen a lot of me and wanted more. I fuzzily knew Gene would not object and I have a surreptitious exhibitionist streak, the guys seeing my body in the bar excited me plus I was drunk enough to be convinced. Later I realized knowing they desperately wanted to fuck me and that disappointed that my failed plans for Jerry aided that poor choice. The game progressed, clothes were won or lost, drinks consumed, and lots of kidding, talking and giggling, just fun and their appreciative looks and comments heightened my horniness.
Abruptly I realized that I o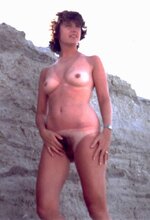 nly wore sheer panties, my tits and nipples were completely bare, and those sheer panties did nothing to conceal my pussy hair. The men were in various stages of undress and were happily enjoying the view of me nearly naked. Insisting I was quitting, Randy, my black sales team leader suggested cutting cards to determine the ultimate winner. The guys mostly were naked and sporting wet, twitching hard-ons. Randy noticed me glancing at his 9 or 10-inch long throbbing hard-on that seemed thicker than my forearm and continued "Best of seven cuts, for each you win, you get something back, or lose something, OK?" Still highly excited, I agreed and shuffled the cards. Each guy would take a turn against me, the first cut I pulled a 7 to their 8 and now was completely naked. Next, they drew a 10, I got a queen and they gave me my thigh-high stockings and watched as I put them on. I could not help but to raise and open my legs, knowingly giving a long good look at my wet pussy lips. I won the next one, got my shoes, score 2 to 1. Then I won again and they reluctantly gave me my bra. 3 to 1 now, I needed one more win. Fate went against me, I lost my bra and shoes, and now it was 3 each.
Suddenly a foolish or maybe hopeful idea, I said "When I win this draw, I get all the clothes and get dressed, then when I leave, you can have them!" Richard answered for them with "Deal, but if you lose, we get YOU! No restrictions, OK?" Tentatively I agreed, I was sure I'd get a high card, it was due. I took the top 5 cards, and my cut yielded a lovely jack of hearts, which I triumphantly tossed on the table. Richard took two cards, frowned, sighed, and dropped an ace on my jack.
I was scooped up, and deposited on the bed and suddenly a man was nibbling on each nipple while another was sucking, licking, and nibbling my clit. I had a good orgasm, then they rotated around. Each man ate me to seven orgasms, then Richard was moving between my still-spread legs. I glanced between us and saw a huge black cock heading for my hole, then it was slipping inside me, after 4 or 5 strokes, then his balls were slapping my ass as he thrust in and out of my welcoming pussy. My stretched pussy soon had another orgasm as Richard's black cock sawed in and out, slowly increasing in speed and roughness. Suddenly I felt very "liquidy" inside and cried out not to come in me, I thought I was very fertile. Still pumping me, he chuckled and said that warning was too late, he had already filled my cunt with sperm and he knew for a fact he was potent. That caused another intense orgasm, then Richard got off me, I looked at the other 6 guys, giggled, and said, "Next!" Lou jumped between my legs, his average white cock slipping inside easily. As he humped me, I urged him to come deep inside my pussy, and he did. One after the other, the two black men, and 3 white took their turn in my overflowing pussy. Multiple orgasms left me exhausted so Randy, whose bed I was on, helped me take a shower. When I came back three guys took me again. I thought it was great, was very tired. Randy and Richard told the rest to get dressed and leave and I was tucked into Randy's bed where he soon joined me and fucked me one more time. An alarm rang around two, I was moved to Richard's bed, fucked again, and slept till an early morning wake-up call. Both black men fucked me yet again, then I snuck back to my room to shower and get ready for the day.
The guys acted perfectly normal to me that morning, only an occasional wink or smile to me until lunch. A very short hushed chat showed I was OK with what happened last night and agreed to meet for drinks right after the meetings. They were glad I wasn't furious or upset, after all, I did cooperate and even suggested some of the events. That night I was the guest of two different men, and my pussy was saturated with sperm. The next day was the final meeting day, except a very short closing one on Friday and Thursday was the fishing trip.
On the arrival day, I had signed up for an all-day fishing excursion on the Gulf as did four of the guys who had fucked and filled me plus one I didn't know but Charles, another black man assured me the guy was cool if I wanted to do anything. I like to fish and thought about getting some sun on the boat also. The talk soon went to the fishing trip and a few comments about being in the sun and offshore. They suggested that if I forgot my bikini, they would not object to applying sun lotion for me. Some minutes later I told them if I did that "I bet the only place to be exposed to the sun would be half of my thighs because you guys would be on top of me most of the time!" and they agreed.
I emphasized I would bring my bikini, said I had stuff to do, and left. Glancing back, they were grinning at me and flashed me a thumbs up: I smiled back and stepped into the elevator. I was certain another gang bang awaited me, I also decided I would make it happen. But I wanted a much sexier and briefer, more erotic swimsuit, so I went shopping, that trip will be another story.
Reactions:
JJtheRSCuck, CptNemo61, Lovasianladies and 15 others