By Barbara​
You should read the first story about this National Conference trip but I'll summarize it here. My husband offered to pack for this trip because of the time I spent at work preparing for it. Very aware he loved other men seeing my body and had a fantasy for me to fuck other men, I should have checked his packing far more carefully. With the very proper business clothes he also included our sexy night-out play clothes, sexy sheer undergarments, my favorite vibrator and some condoms, a very clear hint of his fantasy.
At the conference, I won 2 of 3 achievement awards and my group hung out in the bar celebrating. I was ******* of a "black light" making my long yellow dress very transparent allowing my tits and pussy to be easily seen through my sheer sexy undergarments. Whether this had an effect or not, later our friendly penny-ante poker game changed to friendlier strip poker. I lost all my clothes and experienced my first extramarital sex, black cock, and a gangbang. The next day we participants talked about it and the guys were surprised and pleased I was not "crushed" by it and wasn't opposed if another happened. I decided to get far sexier swimwear.
On arrival several guys and me signed up for a Gulf of Mexico fishing expedition which was now the next day. The six men and me were dropped us off at the boat a few minutes before the scheduled 6 AM departure. It had a well-stocked bar, ice and cold drinks, snacks, food, PFDs, well fully equipped for guest comfort. There was a couple sun bathing decks on the "forward" deck and "flying bridge" with hard roof with antennas and stuff. The black crew, a fit captain and first mate were about my age and promised a perfect day; nearly zero wind, flat seas and plenty of choice fish only a couple hours out.
After "casting off" and getting the usual safety/how things work speech we sipped coffee and munched donuts and pastries for breakfast while heading out. Soon the "additives" became available and a couple cups of "Irish/Jamaican/laced coffee" loosened us up and took the early morning chill away. Robert (a black man who fucked me two or three times at the party) took me "below" to show an album of the "party" beginning with the poker game. Many photos as I lost more clothes, and was naked including several close-ups of my face and body as black and white men fucked me (4 were on the boat now). He proposed to put it out for everyone, boat crew included, to enjoy and maybe getting the party going IE. getting me naked. Ignoring my objections he carried it up to the main deck.
I considered the situation a few minutes then changed into my new tiny bikini while thinking about 8 men looking at the album and hopefully getting horny. I was certain that this tiny bikini would soon vanish as I joined the guys enjoying the album. They enjoyed my comments about some of the explicit and cream pie photos as we ALL examined the album. Someone untied my bikini top baring my tits which encouraged pulling the bow on the bottoms. I was quietly pleased seeing the rising cocks I caused being naked as they also shed their clothing. The very black crewmen were also boldly eyeing this white wife and I told them if I was naked, I wanted everyone naked. We were still among several other boats and islands therefore must be somewhat discrete but the guys wanted to display me so I sun bathed on the lower sun deck.
The black "Mate", long cock hard and bouncing and huge nuts swinging, brought me another laced coffee. He shyly mentioned the photo album, saying I had a beautiful body and looked hot with those black men. He asked if I really was fertile and could get pregnant like they claimed. I answered I was not sure and asked if he would like to come in me. His impressive cock got stone hard immediately. By now the rest had gathered around to watch as I took him in my mout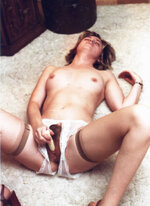 h. I felt a tiny squirt in my mouth and rolled his sperm around and teasingly told him he could not plant a baby in my pussy by coming in my mouth and laid back, guiding him into my cunt. A few minutes later his cock was buried to his nuts in me. Two guys held my legs up as he began to move in and out. He whispered that I was his first white woman and I told him then he should fuck me as hard as he could and he began to pound my pussy and I stated coming. My legs were released and I grabbed them the second he said he was ready and spread my legs flat out to the sides tipping my pussy up so far our pubic bones banged together. Then I felt bubbles of sperm swell and travel along his urethral tube and powerful jets of come fill my pussy. I held him in me until he soften enough to flop out and I felt a flood of juice pour out of me. I had time for a quick look around as "Captain" prepared to mount me, surprised at the several boats very near us and the number of cameras recording my breeding. Captain was fucking me very hard taking several minutes to blow his nuts into me. Then one by one, the others awarded me their sperm until I had taken all 8 loads.
When I got off the cushions naked and dripping sperm, I cheerfully waved to the audience receiving a deluge of horn toots in appreciation (I hoped) and went below to clean up a little. Again I thought of the photo lenses aimed at me and wonder if my husband would find one of me on the internet one day.
Soon we were out alone out of sight of land closing in on our fishing area. I enjoyed the air and sun on my naked body while we began to drift and fish. We were catching a lot of fish and I was unusually excited to be naked while several men were ogling me and wondered when one or more would decided they needed to fuck me again. Captain and Mate seemed to be especially interested, attentive and semi-hard all the time.
After a couple hours and several dozen fish caught I tired of fishing and made my way to the front deck to get more sun. Captain and Mate came to me with drink offers and sun tan lotion. Their amazing very large black cocks were at full attention and I did not wish to waste them. This time I had them lay on the deck and rode them. After they each came inside me, the rest of the group had gathered to watch me getting fucked, they all fucked me again. Some wanted me to ride them, others wanted me on the bottom and a couple fucked me doggy. They must have taken a thousand photos of me which I am sure are on the net someplace.
We were still drifting under a cloudless sky and glass smooth seas and caught so many fish we were throwing them back so we decided for some skinny dipping. Half an hour of swimming did allow me to recuperate and clean up (was it 16 cum loads already today or more?) my pussy again and the cool water seemed to revive those horny bastards again.
I asked for my bag I had brought aboard and the first mate went to get it. I watched that horny bastard's big black and stiff again cock bouncing as he ran back with it. I reached into my bag and withdrew a big vibrator. My husband loves to watch me come with a vibrator and I thought these guys would also. I put it against my clit and almost immediately had an orgasm. I continued to use it and when I start to come hard, my legs come up to my tits, I spread my knees wide and many times I will squirt. My husband says my pussy is trying to turn inside out when I come that hard. It was hot watching the men stroking their cocks and watching me come and squirt knowing they were enjoying the show as much as I was. Suddenly when the deck hand got his tongue in my cunt, I came and I squirted a big one into his open mouth.
We moved to the shaded settee and Mate slid into me as I used the vibrator asking him not to move. He said to the others, "Man I can feel that mother fucking vibrating clear to my nuts. Her cunt is grabbing my cock like a vise, ah I cant stay still no more!' and began fucking my cunt hard. This time he drove so deep to come it hurt, but I took every spurt of his fertile baby juice into my eager cunt. The men lined up to experience that feeling then we headed for port after this final and much smaller round of loads.
I took a shower and a rinse out then we sat around drinking and talking and how they hoped they were sending me home to my husband with their baby in my belly, which scared me a lot. God, I thought, my husband would love that. I felt sure this would not be the last group fuck I did on these trips, especially if my husband knew about it or I was pregnant.
As the time approached to be returning to port everyone, especially me, seemed to be sexually drained and went in search of shore clothes. Then we sat around the "cockpit" drinking and talking, guys from my office were really astounded at my transformation from Mary Poppings to a gang bang queen. Remember I mentioned some problems when I took the job, one was extremely friendly office parties, or fuck groups. I worked to end those in my New England naivety but now Randy brought up that "seeing as you have joined the train pulling gang, will you consider allowing those to resurface?" The return took just over an hour and we discussed the idea and how to keep us all from getting fired if it came out.
Among the friends and acquaintances I had in the company, there were some "Home Office" people, one in particular, called Jerry. Jerry and I nearly made the beast with 2 backs twice but the first time I chickened out and the second, we got interrupted before really getting into it. That time I had no intent to stop and Jerry knew it but we never got the chance again. This trip he had family concerns and was not here, but there was no doubt in our minds he was going to have me. Jerry's job to arrange and schedule everone's visits to any branch, no one visited any branch with his knowledge and approval for whatever reason. I made a note to check with him as soon as I could and have a chat.
As we were approaching the dock the crew gave me a packet with their contact information and a 3 day 2 night any time charter for 6 people (plus me) at no charge (read orgy cruise). They begged me to keep in touch and tell them if I got pregnant and if it was white or black. I was free to invite my own guys or they could furnish them pending my approval with the only condition they would also fuck me! A second choice was the three of us, four if I wanted my husband along, could cruise the Gulf coast and interesting points for a week, but I must be certain I was fertile a day of two in that cruise. I wondered if I should tell Gene, he certainly would want to come to watch me getting fucked senseless and at minimum insist the trip would cover my ovulation and come home black pregnant.
The next day was regular meetings ending early and a free afternoon. We managed to fill the free time with parties and stuff. The following day was wrap up, a final very short meeting was packing and heading home. The guys and I made sure we had all the emails and personal cell numbers. Each thanked me for the great time and promised only the participants would ever hear about the week and they promised to give me all verisons of both videos and the photo album. I made sure they knew that my "slut role" was done and a repeat was unlikely, which I was unsure was the truth. But when we arrived home and saw my husband, I instantly knew there was some major problems. My guilty conscience screamed "he knows you fucked around and are probably pregnant" but I was wrong. That will be covered in the next chapter. A couple weeks after we returned, I got the album and video in a "personal" package at work where it stayed until I could find a secure hiding place.
Reactions:
toolman, JJtheRSCuck, Getmade and 10 others