The first guy we met I found on the Internet. We met him in a local pub. David was a black guy in his early 30s. We had a few drinks and Marlene was nervous, I could tell by the way she was guzzling her drinks. David started moving closer to Marlene and she giggled a little bit but she did not push him away. They began flirting and soon, much to my surprise they were kissing and touching each other... David looked at me directly and said, do you want me to fuck your wife tonight James, I think she does? After three years of fantasizing about cuckolding it was becoming a reality right in front of my eyes.
I guess I didn't expect it to happen so fast. I looked at Marlene anxiously to see what she wanted to do. Marlene kind of laughed and said sure. He returned to kissing my lovely wife of 10 years and I was completely dumbfounded, she was going to do it.
Marlene looked disheveled at me and began giggling. The alcohol had gotten to her. David got up and Marlene slid out behind him with her short skirt rising. I could see that her panties were slid to one side. David must have been fingering her while I was gone. My balls began to churn as Marlene bent over and kissed me. She whispered in my ear, you should have felt what I felt in his pants and she wickedly smiled at me as David took her by the hand and I followed them like a scolded puppy dog out of the pub and drove them home.
In our bedroom, they stood next to the bed, and I took a seat in the chair so I could watch. They wasted no time and began undressing; he pulled off her blouse and skirt to reveal her panties. I could see the crotch of her panties were soaking wet, she was excited. I began to feel at ease as she looked at me and smiled.
Marlene stripped David down to his underwear, and I could see that his cock was already up and ready for the job. Marlene got down on her knees and slipped the waistband of his underwear over the head of his dick. She again looked at me and then took a few tentative licks. She lowered his underwear to his ankles, and he stepped free of them. She then gently rubbed the head of his member over her lips, just giving it little licks and kisses, and his pre-cum started to flow.
She looked up from her knees and began talking baby girl talk to him, Mmmm, you taste so good David, and your cock is nice and hot. It's making my pussy so hot, did you see how wet my panties are?
They looked wet, let's see you without them, he replied.
I could not believe my conservative little wife of 10 years was being such a slut for this man. We had fantasized about this for 3 years and over time she got smuttier in the fantasies but never like this.
David reached down and felt her wetness, and then told her to lie down on the bed and spread her legs. Marlene obeyed; David climbed between them and began eating her out. I watched fascinated, as this was one of my favorite things to do. Marlene gasped as his tongue slid up and down her labia, and then slid in and out of her pussy. This went on for some time, he would suck and lick her clit, and then tongue fucks her. My cock was now aching, and the confinement in my pants wasn't helping any.
I'm so hot, please give it to me now David, Marlene moaned. Fuck my hot pussy, make me cum. I just shook my head as I watched thinking who was this woman? I had never seen her in such a passionate state. My wife was becoming a porn star right in front of my eyes.
David needed no extra urging as he mounted her as I watched. Marlene had her legs spread wide, and David opened him so that I could see as he guided the tip of his cock to Marlene's waiting slit. He poked the tip in, and Marlene moaned loudly. He slid into her wetness easily as I watched his entire cock disappear into her eager pussy lips and then slowly slide his thick prick out again causing her to go into a frenzy trying to fuck him back. He continued, sometimes increasing the pace to a hard and fast fuck, and then backing off to a slow gentle pace.
Marlene was pinching and pulling her nipples, moaning with ecstasy. My cock had soaked through my underwear and there was a visible wet spot growing on my pants. As I viewed the spectacle Marlene suddenly shouted Oh God, Oh Fuck I'm going to cum! Yes David, Yes give it to me hard I'm Cumming on your big cock! I knew at that moment things would never be the same in our lives.
She started to whither beneath him, as he rammed his cock deeply into her. Harder and harder he pounded her wet pussy as Marlene cried out with another orgasm. I saw his ass clench and his balls draw up right in front of my eye. I could see him grinding into her deeply and she was pushing back just as hard. Oh my God, I thought to myself this man is pumping his cum deep into my wife's pussy. In all the excitement I had never even thought about a condom. Marlene didn't either.
David collapsed on top of her spent from the force of his ejaculation. I could see the cum on the base of his shaft buried deep inside my wife. He laid there for about a minute and they kissed romantically, then David pulled out of her. His cock was wet with their juices, and as he pulled away a string of cum hung from his dick to her pussy. Marlene laughed and said God we're wet, wipe that off on my pussy, please. David smiled and rubbed his cock up and down her cunt, leaving the drippings spread all over her pussy lips, and then rolled off of her and laid next to her.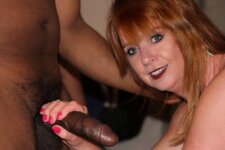 Marlene rose on her elbows and viewed the sticky wet mess of her crotch. She smiled and looked at me. Do you like what you see babe? She asked. I looked at Marlene and said jokingly, as I stared at her pussy and I liked what I saw, I was turned on and I had a thought in the back of my mind that I might like to eat her out. I couldn't believe I wanted that, but I hadn't cum, and right there in front of me was my wife's beautiful cunt all filled up with cum, my fantasy come true. It wasn't my cum, but God I was hot at that point.
I think you do like what you see, she giggled. Anything you want to do now? What do you mean? I gulped. I didn't want her saying anything in front of David. Come on, tell me what you want to do and I'll let you do it, babe. Are you having some nasty thoughts? You can tell us, David won't tell anyone. Just tell me what you want.
It felt like my cock grew even longer. She was going to make me say it in front of David. I swallowed hard, I wanted it. I'd like to taste your pussy, I blurted.
"What, do you want to taste my pussy!?" You can do that anytime lover, I don't think that's what you want to do now. Out with it what do you want to do? I wish I had never started this fantasy. I use to cum inside Marlene and she would pretend it was another man's cum and I would lick it out of her. I wanted to do it but not in front of David. I wish she would have waited until he left, but she was in control now.
I almost came in my pants; she was going to make this nasty for me. I took a deep breath and said I want to lick the cum out of your cunt, I want to clean up that mess for you.
Oh, you nasty boy! Do you want to lick up my pussy after it's been well fucked? It's a wet hot mess honey, isn't it? It's even messy outside because David wiped his dripping cock all over it. Well, I guess it does need to be cleaned up, why you don't take off your clothes first?
I stood up and quickly stripped, my cock felt a surge of relief as I freed it from its confines. Marlene looked me up and down and smiled, then leaned over and kissed David. She looked back at me and said, well, what are you waiting for? Climb onto the bed between my legs.
I did as instructed, and Marlene said Take a close look, can you smell how well it's been fucked?
I got in close to her pussy and took a deep breath. It smelled like heaven. She had cum very hard and her juices were mixed with David's, and the sweat of their fucking created an intoxicating aroma. Yes, you smell delicious, I said.
Then you can start cleaning me since you like how I smell. I want you to lick all around the outside first, get that nice and clean, and then you can start sucking David's cum out of me. She turned back to David and began kissing him again.
I tentatively started to lap up the cum, my cock was dripping onto the bed. I got the first taste and it was smooth and salty. Her cunt was coated, and I had to lick hard to get the sticky mess off, but I worked hard and succeeded. I glanced up to see her French kissing David, and without stopping she took the back of my head and pushed my face back down into her hole. I fervently began sucking, and she suddenly started to buck against my ministrations. She cried out Shit, I'm Cumming again already! Oh God, suck my cunt baby, it feels so good! I had never made her cum so hard in our whole marriage. I became like a man possessed. I wanted to devour her pussy. I knew deep down that I never pleased her sexually and now I had found a way. I looked up at her and she never looked so beautiful to me.
I sucked harder as she came, her cunt muscles began pumping their cum out into my mouth. Spasm after spasm roared through her body, and she grabbed my head with both hands and roughly held my face against her pussy as she rubbed it up and down. David had grabbed hold of her nipples and was tweaking them, adding to her storming orgasm.
As the waves of pleasure faded, she released me and lay back. God, that was great, but I think there's more in me.
I saw that David's cock was rock hard again, and Marlene noticed also. She got on all fours and presented herself to him. David took the hint and positioned himself behind her, and promptly buried his cock inside her. Marlene started to rock back and forth, impaling herself deeply with each stroke. Her eyes were fluttering; she had become possessed just as I was and I wanted her to be. David was a stud that I never was. I could never give her cock like he was and for some reason, I was very ok. Maybe the lie was dead; I didn't have to pretend anymore. I was a cuckold. I didn't know who this slut was on all fours but I knew she was mine and loved her even more and wanted to get to know her.
Marlene looked up at me and said, Babe, climb under me and lick me while I'm getting fucked, please, Don't think about it, just do it, I want you to do it so fucking bad, please lick my cunt now!
I wanted to please her so I got underneath her and she and David spread their legs a little more to allow me easy access. From that angle, I had a great view of his thick cock going in and out of her wet lips, and Marlene's pussy was working up into a lather. I reached out with my tongue and started to lick her clit gently.
Oh fuck yeah! She shouted. Lick me hard cuckyboy you nasty slut! Lick my clit, oh yeah David fuck me deep! I started to lick at the hole as she ordered me, sliding my tongue over the clit and around the hole just as she was getting pumped by David's manhood. My dick was spewing all over my stomach.
Marlene began to spasm wildly, and David grabbed her hips to keep his cock deep in her. She cried out that she was Cumming again, and her body began to quiver as she rode out her third orgasm. I was watching David's balls and I saw them tighten up as he dumped his second load into Marlene, and she sobbed with pleasure feeling her pussy fill up again with another man's cum.
David pulled out, and Marlene dropped herself straight down onto my face, cum leaking freely from her gaping hole. I lapped it up as she ground down onto me. I sucked hard as she leaned forward and took my dick into her mouth.
I lasted about 10 seconds, and then a violent orgasm shook my whole body as I let loose what felt like a gallon of cum into her mouth. She continued to suck and I continued to lick until my cock began to deflate. Finally, she rolled off and turned over to face me.
I had cum on my lips and face, and she had a big smile on hers. David was watching as she grabbed me and kissed me hard. I opened my mouth to accept her tongue, and was surprised when she returned my whole load of cum to me!
Now swallow that one too, she said with a grin.
I smiled and let it slide down my throat, and she let out a laugh.
There, now you finally got to taste your cum lover, maybe next time you will be able to eat it from my pussy! If not, we can always invite David back for more practice.
After David left we made love as we have never made love before.
Marlene has had so many men since then, but that night was the best.
Reactions:
mwfofnudistcouple, BBCOnlyBustyBrunetteBabe, bristolguy and 27 others