I am a 51-year-old healthcare professional from a small Georgia town. I'm a Mother of 4, Grandmother of 3, previously devoted wife, and new wanton submissive slut. In February of 2023, my curiosity about the submissive lifestyle had finally gotten the better of me. So I mustered up the courage to admit my desires to my closest friend who immediately told me about an adult dating site and confessed she had used it a few times when things got stale in the bedroom at home. I have cheated and been cheated on so I know all too well how it feels still the desire was too strong to ignore any longer so I made the profile.
It didn't take long to realize most of the profiles were either chatbots or people wanting cyber sex and pictures and quickly got frustrated with the dating site and decided to look elsewhere. After what seemed like forever, I still could not figure out the best way to find what I was looking for. Hell, I wasn't sure what I was looking for but I did know one person from my past who was into the wilder side of sex but he was an ex-boyfriend and I did not trust him to keep this between us.
After a couple more weeks, several bottles of wine, and hundreds of conversations with my bestie I decided to make a move to at least establish contact. I figured if I could somehow establish contact with him in a platonic way I could get a sense of him to some sort, I mean, I hadn't spoken to him in nearly 30 years.
One Friday night in May 2023 I was sitting at home drinking a glass of wine and scrolling through Instagram when I saw it. He belongs to the same high school Facebook group where all of us stay in touch. I had not realized he was a member since I normally use the group to keep track of us girls and chat from time to time about getting together, stuff like that but this day was special. He, Master K, posted a picture and a lovely letter to his daughter who was getting married the next day. I liked the photo and commented with a heart then kept scrolling for a while before moving on to something else.
When I got a notification from Messenger I panicked and then when it was him, I panicked again!! With a knot in my tummy, I poured another glass of wine and texted my bestie desperately seeking advice. The message I received from her was 100% a smart-ass comment and so like her. It read, "Chill bitch! Drink a glass of wine and go get that dick!!" I didn't have the nerve to answer him or even read the entire message until the next morning, I opened the message and read, 'Hey there, my god you are just as beautiful as in high school, how are you?' I responded and that evening we started talking.
Master K is divorced, owns his own construction company, has three kids, and seemed genuinely interested in my life rather than trying to "hook up" like most men do. We talked back and forth for a couple of weeks mostly catching up and general conversation. Eventually, the conversations started getting a little more risqué after we started talking about some of the wild things he always asked me to do for him when we dated. Once he figured out I was unhappy and my sex life had declined to the point I was looking for something more he started to open up about his sexual interests and exploits. He had continued exploring his kinky side and developing his "skills" as he called it until he met his wife. She was more straight-laced than he was used to but as young love does, it changed his perspective on things and he settled down and had a family for 19 years. Much like mine had done, his sex life declined as well. Both of them found themselves unhappy and decided together to go their separate ways. Since that time he had become a full-time Dom and only interacted with submissive females. He told me about his current submissive, her situation was similar to mine except she was not married but in a long-term relationship that was lacking, and wanted to explore sex more, and that as things developed she became his full-time submissive. I jokingly (not so jokingly) said, 'I wish I had someone to unlock those desires inside me.' This was it, that was my shot, I put it out there and nervously waited for his response. Then it came, I was physically shaking…
"Ha! YOU as a submissive?? No fucking way that would ever work."
I was strangely embarrassed like he had just scolded me or something... Then suddenly I felt so defeated but I wasn't sure why? I sat there looking at the message trying to come up with a response but I had nothing, absolutely nothing. The next day I gained enough courage to ask what he meant by that and he explained that was just his opinion based on his past knowledge of me and was not meant as an insult. "Maybe if I had someone I knew and was comfortable with who could guide me it would be different," I said.
"Are you serious about trying this?"
"Yes, I am," I quickly responded. We talked about lots of things from what I expected, wanted, and needed, some of the ins and outs of D/s, and all sorts of things over the next couple of days. After initially agreeing to a set of boundaries and rules he said he was going to give me 72 hours to think everything over and decide if I wanted to proceed. The day after I told him I was ready to commit and proceed. Now he had prepared me for the way he would talk to me and the most common things he would have me do for him day to day but that first order was still a shock.
Monday, May 29, 2023, at 7:15 a.m. I receive a text message from an unknown number, the text read, "You know who this is slut! Save this under whatever name you want but don't forget it!"
The only response I could muster at the moment was "Yes Sir."
Then the two words came across that would change my life forever, "Good girl," my knees immediately became weak and my pussy instantly wet, I couldn't speak, I couldn't respond, I couldn't walk… I sat there on the side of my bed staring at my phone with butterflies in my stomach. The feeling… This is what I was looking for… I felt like a new person at that moment and got up and went to work with a smile on my face.
We talked off and on throughout the day and I let him know when I got home. He asked me to let him know when my husband got home? I assumed it was so he wouldn't text me while he was there, you know keeping it discreet and everything… boy was I wrong! At about 8:30 pm my husband walked through the door, he works in HVAC so his route arriving home is to, shower, get a drink, and sit in his chair for an hour or so to unwind. when he got in the shower I texted Master K "he's home."
"Are you ready?"
"Ready for what?"
"Your first task."
Although my mind was racing and my heart was pounding I said, "Yes Sir, I am."
"Go to your bathroom, strip naked, get on your knees, and prove you can do as you are told."
I could not believe what I had read, I didn't say anything other than "Yes Sir." It's important to know my relationship with my husband is not a bad one at all. We don't have sex and if we do it's just until he cums, I mean he is nice and asks if it's ok or if I'm in the mood. It's not like he is mean to me or ugly to me we are more like really good friends who live together and occasionally fuck, friends with benefits. Anyway, I sat on the couch for a second to think and make sure I was going to do this. This was it, this was going to be the beginning of something or the end and the next few minutes would determine which. I got up enough courage to go into the spare bedroom and take the picture, I had it, I did everything I was told but I couldn't make myself send it, instead, I sat there and stared at my phone.
A little while later my husband came into the living room with some food, ate, and we talked for a while about normal stuff then he said he was going to bed and asked if I was ready. I told him I wasn't sleepy yet and I was going to watch TV for a while. As I watched him walk into the bedroom I asked myself if this was really what I wanted. Ultimately I decided I wanted that thrill I had felt when Master K messaged me, I wanted to find out what was there.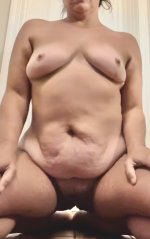 There! I sent it, I felt like I could vomit I was so nervous. I have had four kids and my body is not what it was last he saw it, not by a long shot. I could not believe I sent that picture to a man I hadn't spoken to in 30 years, a man who knows my family and where I am from... What would he say?
I immediately started preparing for rejection, staring at my iMessage screen to see those three little dots. I had to lay the phone down before I lost my mind. I felt like my heart was going to explode. Then….the alert came on my phone. I knew it was him. I reached for my phone and stopped myself so I could breathe for a second. My hands were shaking when I picked up my phone and read the message.
"WOW!!!! Just wow. I love your body girl. You are still sexy as hell. Can't wait to get my hands on you!"
"I'm glad you liked it."
"Liked it? No, I said I loved it. So do you want to do this?"
I thought about it, that's what took me so long to send, so maybe that answers your question?"
"Fair enough, I am going to be in your neck of the woods Friday. I want to see you when you get off work you think you can arrange that?"
We set a time and location to meet to talk things over for Friday evening then continued talking the rest of the week reconnecting, we discussed sexual desires, fantasies as well as likes and dislikes. He was very curious and asked a lot of questions but he never told me I was going to do this or that. He only told me things he liked or stories attached to things he had done and enjoyed. My point is, by the time Friday came around I was somewhat comfortable and fairly relaxed. I was still nervous and had butterflies in my stomach but I wasn't a nervous wreck or anything and that made me think maybe this was the right decision.
When I showed up, we exchanged hellos and a hug as he opened the passenger's door for me to get in, once he was behind the wheel we started driving around talking, at first, we recapped all of our conversations and he confirmed with me a few things I had said I did and did not like. We pulled into a fast food restaurant to grab some onion rings and a couple of drinks just like we used to do in high school, I thought that was so sweet, it was like we were back in high school in many ways. As he comes to a stop behind the vehicle in front of us he turns around and grabs a folder out of the back seat and handed it to me. He told me to read it while he ordered. I opened the folder, my pussy instantly got wet, it was a D/s contract. I had been reading about D/s nonstop for months at this point so I kind of expected something like this but still, the immediate shock of it sent waves through my body. As we approached the pick-up window he looked over at me and said, "Do you need a pen?" We rode around and talked for a few more minutes while we ate our snack and then he pulled into a motel parking lot and into a spot and looked at me. "I am very interested in pursuing this, I do not mind that you are married as long you don't mind that I have another submissive? If it works out in the long run and you get divorced I would focus on you and that is my goal."
I told him how I felt and what I wanted, He got out walked inside the motel office, and paid for a room. As soon as we were in the room, he told me to strip. I was not in control of myself at all that night. The things that man did to me are indescribable, I slept the entire next day. I have enclosed some pictures of that night, I hope you have enjoyed hearing about my first steps into the lifestyle. I will add additional volumes each week until I get caught up and then I will post regularly to update you all on my journey, until next time stay Slut T.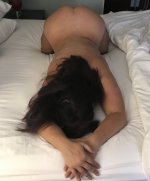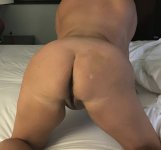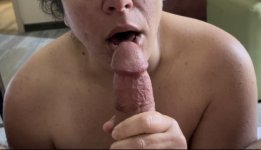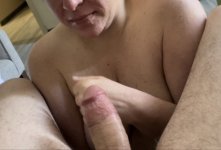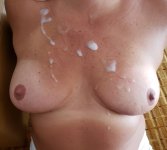 Reactions:
mwfofnudistcouple, Dreamed, canweplaytoo and 13 others