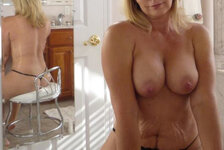 It had been in the making – a long time! We first began talking about sharing the Wife several years back. She was nowhere near keen at first. Eventually started to think about it more, saying that might be fun but she was afraid it would seriously damage our marriage. She eventually figured out that nothing about it was for me to be with other women. I only wanted it for her, to be pleasured – and to please others. Finally, more recently, she's decided that it could be a lot of fun and she would give it a try. But only with the right person and if all the circumstances were great.
Ann is 59 years old, and we've been married for over 40 years. She's 5' 6", has nice 38DD boobs, blonde hair, blue eyes, and plenty of curves spread across 160 pounds or so, a beautiful smile, and a great personality. A bit reserved, it takes her some time to get to know someone and be able to open up to them. In the bedroom, she tends towards submissive – but not overly so. She will say no to some things, and when she does she means it! I'm Ricky, 63 years old. Fairly fit with some extra middle, 5' 9" tall, 185 pounds, still with all my hair and teeth and systems working!
Ann had never been with anyone other than me. She'd played around some before we met, but nothing ever to the point of letting anyone else inside her. I had been married before and had been with quite a few ladies after that broke up and before I met Ann. I have always told her that she needed to experience someone other than me. Not because we didn't love each other – just because it's so much different with another person and I know she would enjoy herself. It seems such a shame that someone as nice and pretty as Ann would only be with just one person.
We've had a few failed attempts, actually three different times. Had gotten close to her being shared with another guy that she connected with, and with the right set of circumstances lining up. Each time something fell apart towards the moment of truth and she didn't go through with it. All of those times, it was the guy and his circumstances that blew it up. It wasn't Ann's fault it didn't come off, she did seem committed to going for it. She says it has to be with someone we don't know as friends and has to be away from our home area. That way if it doesn't turn out just right, she wouldn't have to worry about running into the guy at the grocery store, or something really weird – like him stalking her. Made sense to me, and I encouraged Ann to be checking out possibilities anytime we are away from home. I love buying outfits that show her off well, and she does enjoy flirting & teasing. We like to travel – a lot, so that helps to make for plenty of possible opportunities.
I told Ann that I'd love to be involved when she does go through with it. Watching for sure, and maybe jumping in and participating too – if it fits in okay. She thought that was a bit weird, but said she'd think about it. She thought she would be able to enjoy it a lot more if she wasn't worried about what I was doing/thinking while it was going on. Also, she might not be able to let herself go entirely if I was there watching the whole time. I've been told by many that wives do things with the "other guy" that they'd never do with their husbands, I wasn't sure if that was true or not. The result is we said we'd wing it, and see what happens – whenever it does happen.
We started planning our next vacation. At first, I was trying to steer Ann towards Jamaica, hearing and reading about all the hot things that happen there – I thought that might be a great place to break her into being shared. But as any of you married guys might know, what the husband has in mind doesn't always come to fruition. She was set on a cruise, so guess how that turned out. We booked a 7-day cruise leaving from New Orleans, going to Costa Maya / Honduras / Belize / Cozumel. We booked a nice balcony room and had high hopes she might find someone to her liking on the cruise.
I suppose it was just (bad) luck, or possibly due to the timing of our booking. Turns out most of the passengers were either gay couples, really old married couples, or electric scooter riders that couldn't see/hear and would run over you like you were a speed bump. Not a lot of "hopefuls" for her to check out. For at least the first part of the cruise, no one caught her attention. Towards the last few days though, a nice-looking well-spoken younger guy (mid-40s or so) sat beside Ann in the casino. He began to strike up a conversation with her, introducing himself as Jim from Kentucky. He was divorced and in need of a break from his flooring business so had booked the cruise to get away and recharge. Ann thought he was very nice and that he seemed to be looking her over. I met Jim briefly while they were chatting at the machines, just before we took off for supper. We didn't bump into Jim anymore until the next-to-last day of the cruise.
We were booked to go to Passion Island near Cozumel for that day. As we were boarding the shuttle boat to take us to the island, Jim appeared up and said he was going also. We all hung out together for the day at the beach there. Having a few drinks, working on tans, relaxing, talking, and generally getting to know each other pretty well. He was extremely complimentary of Ann and how she looked in her swimsuit. Looking at her for long periods with obvious thoughts in his head. We didn't make any overt indications to Jim that Ann could be available, but he was making sure she knew if she was that he would love to be with her. As the day ended and we began to shuttle back to the ship, we made plans to meet around 10 pm that night in the club onboard to listen to the band and have a few drinks.
Ann seldom drinks. And when she does it's usually just a glass of Malbec and she's through. As we were getting ready in the room to go meet Jim, she asked me to get her a rum punch. I did, and she drank it while getting dressed and dolled up. She didn't like the way her dress showed her panty lines and asked me if it would be okay if she didn't wear any with it. It looked great. Plan was for us all to meet up, but while Ann was getting dressed I developed some major stomach issues and felt awful. I told Ann it would be rude to stand Jim up, for her to go ahead and have a few drinks with him if she'd like to.
At the club, Ann found Jim and they listened to the band. Talking more and having a few more drinks. Jim asked her to dance and when it came to a few slow dances he began to let his hands roam and explore. Ann didn't pull away and was enjoying herself. Jim got around to asking Ann if she'd like to go back to his cabin with him. She said she needed to talk to me. She called me and told me all about it, getting around to finally asking if it was okay if she went to his cabin. I told her I was fine with it if she wanted to, but I needed the cabin number as a safety. She got it for me and said she'd see me in a little while.
Little while turned out to be about 3 hours! When Ann came into our cabin she was grinning like the cat that ate the canary. She literally could not wipe that grin off her face, and she was visibly reddened. She asked if I was feeling any better and told me she was fine. I asked if she had a good time, and she said she had. Of course – I wanted to know the details. All of them.
Ann said once they got in Jim's cabin he was even more energetic with his feeling for her. All over, across her boobs, inside her dress – and discovering then that she had not worn panties. That seemed to fuel the fire as he had free access to play with Ann's pussy. Kissing her while fingering her, still fully clothed. He eventually laid Ann back on the bed. His cabin was laid out differently from ours. He had two single beds instead of one big one. Once he had Ann on her back he pushed her dress up, took his clothes off, and got straight into eating her pussy. Ann loves this, arching her back and squirming. Moaning and clenching the sheets. After a good bit of this, Jim eased up on top of Ann and pulled his cock up / down across the wetness of Ann's pussy. Easing the head in slowly, then pushing all of himself into my Wife. Bare. She said Jim was about the same size as I, so he was able to push in fairly easily. Ann's legs only opened even wider, so she could be sure she was getting all Jim had to offer. She said he started with slow strokes but built up to a fast pace quickly. In just a few minutes he told her he was about to cum and asked if it was okay to cum inside her. She told him to please do it!
It must have been a good while since Jim had sex. Ann said he came buckets inside her. She could feel him pulsing and pumping for a long time. He laid on top of Ann until he had gone limp and her pussy had started to push him out. Huge globs of their juices soaked the bed as they gushed from Ann. He rolled off and they lay close together on the small bed. Rubbing and fondling each other, talking a bit, enjoying the moment.
They didn't get in any hurry, Ann finally got completely naked. Her dress was pretty much wrecked. Jim began to get hard again with Ann working him with her hands. He had her get on all-fours and fucked her from behind, doggy-style this time. Reaching around and pulling/pinching her big flopping tits as he pounded into her. Jim grabbed her hair and pounded her hard as he pulled back on it. Jim lasted longer this time and Ann said she was able to orgasm just before he filled her up again.
A good rest period, more playing around and chatting. Ann got on all-fours again atop Jim and began sucking him hard for another go. She must have gotten a bit too enthusiastic though – Jim started to cum and he pulled from her mouth just in time to shoot across her boobs and neck. She told him that she needed to get back and check on me. Jim asked if he could meet up with her again the next night, which would be the last one onboard. She told him she would talk with me about it and let him know in the morning.
Ann pulled on her clothes and came to our cabin. I didn't have to ask what she'd been doing when I saw her, it was incredibly obvious! She looked very much freshly-fucked. She came over to kiss me and ask if I was feeling any better, which I was. Then looked at me, waiting for me to start asking her what had gone on. I made that part very easy. I wanted to know absolutely everything – in the greatest of detail! I could see the outside of her dress had a big hard splotch of dried cum on it, and when I opened up the leg slit I could see where Jim's cum was still leaking from her. She lay beside me and started telling me all about what had taken place. I felt her boobs and leaking pussy while she described it all. Her boobs were marked up some from Jim pinching them. I felt how slick and hot and swollen her pussy was. Fingering her, it didn't seem she was stretched out – she still felt mostly normal. As she got close to finishing telling me about it I rolled on top of Ann and pushed straight into her. Feeling how hot wet and smooth her cum-filled pussy welcomed me. I wish I could say I lasted hours reclaiming her, but I'd be lying badly if I did. All the excitement of knowing how she'd been taken was too much for me. I easily came inside her within a few minutes and added my load to Jim's. Squishing his out each time I pumped inside Ann. We made a huge mess on the bed, I have no idea what the Cabin Boy must have thought!
The next morning was the last day onboard, an at-sea day. We took it easy and I kept coming up with more questions. Ann continued to fill in more details. She brought up again about whether or not she should meet up with Jim that night. We talked about it and decided we would all meet up in the club around 9 pm. A different band was to be playing. After supper, she spent a lot of time primping and getting all dolled up. Jim was already in the club and was saving a table for us when we came in. It was nowhere near as awkward as one might think. We were fairly relaxed around each other, especially since Jim had just met us a few days ago – and he had fucked my Wife last night like she was a ten-dollar whore!
Jim and Ann danced several times. She and I danced a couple. They were really enjoying the slow dances, getting all touchy-feely with each other and even kissing openly on the dance floor. Ann had herself another few rum punches. After about an hour and a half, Jim excused himself to go to the bathroom. When he did, Ann told me that he had asked her to come back to his cabin with him again. I asked her if she wanted to – and she said yes, she did. I asked if she wanted me to come along too, and she said she'd rather I didn't if I was okay with it. She just didn't think she could relax and enjoy it as well if I was there with them. I told her it wasn't what I'd hoped for, but yes if that's what she wanted then I'm good with it. After Jim returned, I made my excuses and told them I was going back to the cabin – for them to have fun. Ann said they stayed only a few minutes more after I had gone. Dancing wasn't at the top of their list of things they wanted to do!
They went straight to Jim's cabin, holding hands and she said Jim was grabbing/squeezing her ass as they walked down the halls. I'm sure anyone seeing them got their eyes full. Soon as they were inside Jim began taking Ann's dress off, kissing her all over, and playing with her boobs and pussy. Ann dropped to her knees and took out Jim's cock, sucking him down her throat. Jim grabbed the back of her head, pulling/pushing to face-fuck her. Ann pulled away from Jim after a bit, telling him she needed him to fuck her. Guess it's better to go ahead and let him know what you want and not be bashful about it! They finished undressing and Jim got on the bed between Ann's legs. Pushing them into the air, grabbing her by the ankles, and fucking her hard in that position for a good while. He came deep inside Ann, but it was before she was able to orgasm. Ann's pussy started pushing Jim's cock out as he went soft, and he rolled off her.
They talked for a while, caressing each other. Jim asked Ann about me letting them fuck and wondered how I could do that. Ann told him she had it figured out – I just loved her that much and wanted her to be happy! Ann got on all fours on top of Jim and began sucking him back too hard. She had just gotten started when the cabin door opened and a guy walked straight in. Ann tried to hide under the covers. Jim told her it was okay, it was just his younger brother Matt! He said they were sharing this room on the cruise, now it made sense to her why there were two single beds. Jim asked Ann if she was okay with Matt joining them – she said no way! He kept on and on with her until she finally relented and told him okay. That she supposed it didn't make much difference at this point. But they both had to promise to never tell me about the two of them having her. He asked her to go back to what she was doing. With Ann on top of Jim sucking him, she didn't get to see as Matt was undressing.
Matt came up behind Ann on the bed, her still sucking away on Jim. He started trying to work his cock into her slowly. As he began to enter her, Ann felt that he was bigger than she was used to – and she gasped deeply. As her mouth opened wide when she gasped, Jim grabbed her head with both his hands and began to face-fuck her. Matt slow-stroked into Ann. Working a bit more into her with each push, until he was satisfied he was fully inside my Wife. Then he began to pound into her. Hard, fast, and with long strokes. Jim and Matt fucked both ends of Ann this way until they were done with her. Jim came deep down her throat, Matt filling her pussy full of his cum. Ann orgasmed before they unloaded on her. As their hard-ons dwindled, they eased out of Ann and all flopped down across the beds. Getting their breath, taking in what they'd just done, with a good bit of giggling and small talk, Ann still had not seen Matt hard.
Took a bit, but as they continued to talk and play around a bit, Matt got fully hard again. Ann got to see that he was 9 – 10" long, and thick. She then understood why it had felt like he was splitting her open when he was fucking her. Matt asked her to get on top of him on the bed, Ann straddled him. She was plenty wet and slick, two big loads of their cum already inside her. She worked up / down his cock from the top until she had Matt fully buried inside her once-tiny pussy. She rode him that way until she bent forward over him, giving Matt plenty of chance to suck and bite her big boobs. He left huge hickies all over them. Jim thought he'd seize the opportunity and came up from behind Ann while she was fucking Matt. He tried to work his cock into her ass. Ann was having none of that, she wouldn't let him – maybe she was saving at least one hole for me? When Matt figured out he wasn't winning that way, he began to try to work his cock into Ann's pussy. Alongside Matt's, as he was fucking her. I have no earthly idea how they managed to make that work – but I suppose persistence does pay off. Jim got inside her too. The two brothers, Jim and Matt, were both inside my Wife – fucking her simply silly! Jim grabbed a handful of Ann's hair and pulled her hand back onto them. He started smacking her ass with his other hand. He landed some pretty good licks, she had big red handprints all across her ass when she made it back to our cabin.
Ann orgasmed several times, and they both pumped her full of their seed, very nearly at the same time. They all lay their winded for a good bit until Ann's pussy started to contract and squeeze their soft cocks out. Jim smacked Ann's ass good and hard one more time and moved off Ann. Big globs of their juices gushed from her, that must have been an epic wet spot!
Ann told them that she needed to get back to our cabin. It was the last night onboard and we still had to get things ready to disembark. They asked if she wanted them to walk her back to the cabin, but she declined. She probably figured I'd freak out if two guys brought her back – and she was only supposed to be with one.
So roughly three hours after I'd last seen her, Ann opened our cabin door and came in. She looked like she'd just survived a train wreck! I asked if she was okay, and she said she was and that she had a great time. She thanked me for letting her go alone. Ann undressed, we kissed and talked some and I started playing with her, she said she was sore and could I please wait. I told her no chance of that – I had to have her. From standing positions, I bent her over the bed. Soon as I entered Ann I knew something was different, extremely different. I told her she was open up and asked if she could even feel me inside her. She said she could, but that was just to not make me feel bad. She told me later that she really couldn't. I asked her what made it so different, and that's when she began to tell me about Matt joining in with her and Jim, and what all they had done. It was almost like air fucking Ann, she was so incredibly stretched out. I still managed to cum inside her, but it ran straight out of her as soon as I did. We talked some more – a lot more, and she gave me plenty of details. We finally went to sleep and got up early to leave the ship.
I asked Ann the next morning how she was feeling. She said she thought they broke her pussy! We made it off the ship okay, didn't see either Jim or Matt as we were disembarking. Once we'd made it home, Ann was changing purses and found Jim's business card he'd slipped in at some point. It said, "If you're ever in Kentucky, would love to party with you again!" I told her that could be trouble – no telling how many more family members Jim might try to slip in on her!
Reactions:
nmcjm, Scottalex, Milfsrhot and 23 others