Never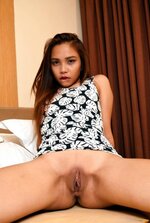 thought It would come to this. Goes to show how things change in a relationship. My wife was a singer in the church choir. Always modestly dressed. Nobody really knew how hot her body is except me. I'm the only one who see's her naked. Over the years the sex life would wane and I would do what I could to spice it up. I traveled for my work and could be gone weeks at a time. So I bought her sex toys, which increased in size.
We had our bedroom banter. I would tell her how hot she was naked and how guys would love to hit that pussy. At the time I was just playing, but trying to boost her confidence. When I was out of town we would have phone sex and I would tell her to use her toys. Funny thing is, as I thought about her using them, I also thought about other men tapping her for sex. I found that also aroused me. So when I got back home, I bought her a black dildo that was 11 inches long. She enjoyed our playtime as I would eat her as I stroked the dildo in and out which always made her cum.
As we layed there, she asked me why the dildo was black. I told her because most black guys are hung like this dildo. she was taken aback. Really she said. I said you never heard about that? I told her they would love your pussy because you take this whole thing all the way and thats what they really like. She said she didn't believe me. So I told her I can show her on the computer.
We started watching Wives who like BBC and Trainer videos. Her face looked in awe and she would glance at me and smile. I told her, those are consenting adults.
I was away again for a couple weeks. I told her over the phone she could stick the suction cup on the bottom of the toy to the top of the wooden chair while she watched the BBC videos. Why should I do that she asked rhetorically. I told her it was OK to fantasize. I know she tried it. actually several times. When I came home I looked at the computer history and there were several times she logged onto those sites. sometimes hours at a time.
At home again in bed she asked me. Would you want to see me with a black man? Why do you ask I said. She had watched some cucks videos of Blacks doing wives. Show me I said and we watched a few together and I could tell she was getting hot. She said lets go in the room and play with our toy. The ease at which she took it confirmed to me she had been making good use of it. That turned me on.
Afterwards she asked me again. So I asked her, would you want to do that? She said would I be mad if she did. So I reassured her that I thought it was sexy and would n't mind if that's what she wanted.
So we started to look up sites to hook up with a willing partner. We chatted with quite a few different men. Shared photos. and actually met someone whose photo caught her eye. The guy had a monster cock. and that was flacid. It hung close to his knee. I told her you are not afraid to take that? Uh uh she said smiling. Are you afraid to watch me? So we met the guy. After both of us agreeing to show our current physicals to assure we were clean, and getting to know each other. He was also married, so there was no risk of him wanting to steal her away. But eventually he would end up screwing her more times than myself. Especially when I was on the road. We set up a session at a nearby hotel. Watching them was an extreme turn on. Her writhing under his massive cock was better than sex. It lusted me out. Made me want her even more. He wanted to see her more and more. I told her, it was because her pussy appealed to big cocks because she could take it all. So In a sense, I groomed my wife to like BBC and turned myself into a cuck in the process.
I realized that I have become a cuck
Reactions:
Andiwho, HrdRob, starrfred and 30 others