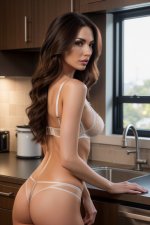 This story is Part 1 of the series "Unravelling Lena's Hotwife Desires" which I'm writing about a wife's transformation into a hotwife.
--
The warmth of the early evening sun cast gentle rays through the window panes, creating dancing shadows across the wooden floors of their intimate home. Lena stepped silkily into the dimly lit room, her slender frame moving gracefully beneath the golden hue. Her gaze drifted towards Jack, her husband of two years, who stood confidently near the edge of the bed. As usual, his handsome face held hints of excitement, waiting eagerly for what would soon come – another night together filled with passion and tenderness. But tonight felt different...
"Lena," Jack whispered tenderly as he reached out to grasp her hands, "You look ravishing. I'm so lucky to have you as my wife." His voice carried a note of vulnerability and eagerness mixed, causing goosebumps to form along Lena's arms.
Feeling the heat rise within her chest, Lena replied softly, "And I'm lucky to have you as my loving husband." She can't believe the last two years have come and gone so quickly. Their love has blossomed in marriage and she hasn't felt closer to Jack as she felt now.
With one last lingering glance at her reflection in the mirror - the curve of her breasts, the roundness of her ass, the wetness between her legs - she turned around, ready to accept her husband's advances.
Taking off her clothing slowly, she let the cool air caress her skin and felt goosebumps erupt from head to toe. She approached Jack gently, taking care with her motions to gently arouse her husband. She looked into his eyes as she approached, knowing he would take her in his arms soon. Sure enough, within moments, their bodies were entwined in a warm embrace, her breasts on his chest, her legs between his.
Each touch ignited a fire in them, each kiss set their hearts racing. Their sensual dance culminated with Jack reaching underneath Lena's thong, finding and teasing her swollen clitoris until she moaned louder, asking Jack to stop before starting again, driving her mad with pleasure.
Jack plunged two fingers deep into her dripping cunt, circling her G spot rhythmically, pressing against it just right so that she cried out in ecstasy.
In response, Lena pulled them onto their bed, rolled onto her back, spread wide, and invited Jack closer. He positioned himself between her legs, looking downwards upon the beauty he admired every day, now fully unclothed and open to him. He pulled her thong down to her ankles. His wife's pussy was dripping wet, the pussy lips slightly parted which looked like it was inviting him to penetrate her with his hardened cock. With no further foreplay and in one steady stroke, he pushed himself into her welcoming wetness, sinking deeper till his hips met hers. Her pussy lips parted as he entered her sex with his. Groans of pure pleasure escaped both of their lips.
Everyone they knew always commented on how Jack managed to marry such a beautiful woman. Lena was petite compared to Jack, but her breasts were big for her size and her curves were exquisite. She had a beautiful face and her eyes were so mesmerizing that one could get lost looking into them. Her legs were slender and went on forever, culminating with a lovely heart-shaped ass. Her body was perfect in every way. Any man, and many have tried, would love to fuck her.
Jack on the other hand was average in most ways. He was slightly overweight, not that tall, though still tall when standing next to Lena. He was thinning at the top, despite being only 25 years old and a mere three years older than Lena. Whilst average in most ways, the one thing that made Jack insecure was his cock and prowess in bed. By any measure, Jack had what would be called a small cock, smaller than average and no doubt smaller than the many men that had hit on Lena when they were dating.
Lena wrapped her long legs tightly around Jack's waist, pulling him even deeper into her body. In return, Jack thrust faster and harder, grinding his pelvis against hers. His small cock penetrated his wife fully to the hilt. He could feel her warmth and moisture coating this cock with every stroke. Each movement sent waves of delight coursing through the entire length of his cock.
God, he loved his wife and how sexy she was. Two years on since they got married, Jack still marveled at how he was the lucky guy in her bed every night, between her legs and fucking her.
As if caught in a trance, neither could resist the urge to let loose, screaming out each other's names loudly as they got more aroused by their lovemaking. Their bodies trembled and the intensity of their collective highs echoed throughout the bedroom.
"Oh, Jack! Make love to me.", Lena purred.
"Lena, your pussy feels so good! How does my cock feel?", egging his wife to say the words he longed to hear, the words that would boost his ego and affirmation as a man.
"Amazing. You feel amazing. Don't stop." said Lena.
Jack smiled proudly, reveling in the knowledge that he could pleasure his wife. Pushing Lena further, Jack said, "Tell me. Tell me to fuck you with my big cock".
Lena was a shy person by nature. She's only ever been with one man in her life. Despite the many men who had hit on her in the past, Jack was the one she had chosen. Jack had taken her virginity towards the end of college in the back seat of his parent's car. They were young and as you'd expect, clumsy at that age. Jack had mustered the courage to unzip his pants and had taken his cock out as they parked on the side street near a lookout close to their homes. It was a fairly night, so Lena couldn't see Jack's cock clearly, but he had grasped her wrist and positioned her fingers around his manhood. It was the first time she had touched a man that way. She remembered clearly how hard it was, how it felt in her hands, and later how it felt when he first inserted his manhood inside her womanhood.
Since that first time in the car, they explored each other's bodies often and fucked whenever they got the chance. Lena learned that Jack could fuck, cum, and fuck again multiple times each day. She loved that about him. He had incredible stamina if not stature. Like all horny teenagers, they both had a seemingly endless sex drive. She felt lucky to now have him as her husband.
Jack wasn't tall or big-built in any way. Many of his friends were taller and more muscular. It was his personality that attracted him to Lena. And he was so good and caring to her - not just when he was wooing her but also after they got married. Lena knew her husband did not have a big cock, but it was his cock and she loved him so it didn't matter in the slightest.
"Tell me, Lena. Tell me to fuck you with my big cock", Jack repeated.
Lena blush profusely, feeling incredibly embarrassed about using the word "cock", even though it was her husband who wants her to say it in the privacy of their bed.
"Cock. Jack, fuck me, Jack. Fuck me with your ... cock", shyly she said.
Jack didn't need any more encouragement. He increased his pace and slammed the entire length of his cock into his wife's wet pussy. He stroked his cock in and out, observing how wet but tight she was.
Hearing the word "cock", coming from her mouth, caused Lena's cheeks to burn hotter. Feeling completely exposed and vulnerable, she looked away briefly, unable to meet Jack's stare. Despite having been married to Jack for two years, she still felt embarrassed about sex and sharing her desires with him. Sex was always something he initiated, even if she was the one who wanted it on a given night. Tonight though, whilst feeling embarrassed, she also felt a sense of power within her - power derived from knowing she could make Jack react like this just by saying a few forbidden words.
"Big cock. Lena, tell me to fuck you with my big cock", Jack emphasized.
She bit her lip nervously, feeling conflicted emotions surging through her veins. On one hand, she was terrified of uttering such explicit language, even if or especially because it was directed toward her beloved husband. On the other hand, the thought of hearing Jack beg for permission to use his "big cock" excited her beyond belief. Trembling, she found the strength to speak the words that would push Jack further into submission.
"Uh. Ok, Jack! Fine. Fuck me with your ... big ... cock!" Lena gasped, her voice trembling with excitement with her explicit language.
At once, Jack threw caution aside, driven solely by primal instinct. He grabbed hold of Lena's hips firmly and trusted himself into her wet depths with renewed vigor. Every powerful stroke sent ripples of exhilaration coursing through Lena's body, leaving her aching for more. Jack knew what his wife liked, so he rubbed his thumb in rhythmic motion on Lena's clit and fucked her with his cock.
As Jack's hips moved faster and harder, sweat began to trickle down their bodies, merging with the salty mixture already pooling between them. Lena arched her back, meeting Jack's movements with equal fervor, ensuring he received the same level of stimulation. This mutual exchange of energy drove them both higher, their climax drawing nearer with each passing moment.
Lena shifted her weight, lifting her legs and wrapping them around Jack's shoulder, providing leverage for him to move even deeper into her pussy. She knew in this position, with her legs on his shoulders, Jack's cock could go its deepest. Grasping her hip with one hand, Jack used the other to pinch her nipple, sending shockwaves of pleasure cascading through her body. Lena's moans grew louder and her muscles tensed as she neared an orgasm.
Their bodies intertwined, moving in syncopated harmony, creating a symphony of flesh banging on flesh. Each thrust sent rippling waves of pleasure coursing through their connected bodies, intensifying the experience tenfold. Jack matched her tempo of moans perfectly, increasing the speed and force of his thrusts. As he watched his wife writhe beneath him, her expression filled with raw passion, Jack knew he was doing everything correctly. His small cock, whilst small, was doing its job perfectly he thought as he stared at his wife's nakedness wrapped around his manhood.
Jack had only penetrated his wife ten minutes ago, but it already felt like an eternity. He knew he wouldn't last much longer. Lena was just too sexy and the way her pussy felt around his cock was just too good. He thought, no man, no matter how manly would last long inside Lena's pussy. Her pussy was so tight, wet, and warm making every fibre of his member on fire. His cock was covered in her wetness, glistening with renewed love with every trust. He could feel the familiar urge to cum.
Soon, very soon. But he wanted to delay it, prolong the thrill. He slowed down to stop himself from cumming, but continued to thrust his hips in and out and hit the sweet spot of Lena's clit. He knew he didn't have a big cock, but in that moment, as he watched his wife's beautiful breasts bounce with his every stroke, did a big cock matter at all? Isn't it all about how you use it, rather than the size and size alone?
Yes, it may be true that having a large penis can provide greater physical sensation, but sometimes it's the imagination and creativity behind it that matters more. Perhaps, it wasn't so much about what Jack lacked in size, but the love and care he put into satisfying his wife that truly brought her to the peak of satisfaction. Determined to give her the best sex of her life, regardless of his modest stature, Jack finally asked his wife what he had been thinking about for months.
"Lena, tell me you like my cock. Tell me my cock makes you feel amazing".
Lena parted her lips and moaned loudly. She could feel her husband's cock hardening in her pussy. She knew he was close to cumming. She tightened her pussy to intensify his pleasure, hoping to bring him over the edge.
"Honey, your ... cock ... makes me feel amazing," she said between breaths.
"Tell me if you've ever fantasized about fucking a bigger cock", in a moment of pure courage, Jack finally asked his wife. His obsession and insecurities about his cock come to the fore.
Lena was initially silent, looking into Jack's eyes with a mix of surprise and confusion. She wasn't sure what she had heard. Did her husband ask if she ever fantasized about fucking a bigger cock?
Jack continued to slowly fuck his wife. He pushed his cock into her pussy hard and roughly, grinding it to the deepest it would go and making her grasp at the forcefulness of his lovemaking.
"Honey, does my cock feel good? Is it deep inside you right now?", Jack asked.
"Yes, Jack. Your ... cock ... feels amazing. It's so deep inside me."
He leaned in and rested his entire body on top of his wife. Suggestively, he stuck his tongue into her ear and whispered, "Imagine a bigger and thicker cock inside you right now. Can you imagine how that would feel?".
"Would you like to fuck a bigger cock?" he continued, somehow feeling emboldened. His heart was thumping and he slowed his pace even more, moving slowly in and out of Lena on purpose to emphasize his forbidden question.
Lena was undeniably beautiful. Her slender petite body was accentuated by womanly curves in all the right places. She had always been shy in bed, too timid even to use the word "cock" with him. But in moments of exquisite passion like right now, right on the edge of an orgasm, Jack wondered if she would open her secrets to him like she had opened her legs.
There was a slight hesitation before she responded, "Um ... I guess ... No. No!" He was painfully aware of his small cock, but had always wondered if Lena wanted more. He was curious to know if his wife ever desired a bigger cock. The pause spoke volumes to Jack, fueling his assumptions. He knew the time had come to keep probing.
No!
"You can be honest, Lena. Tell me if you've ever fantasized about fucking anyone with a bigger cock than mine", Jack pressed on both using his direct tone as well as his cock, as he pushed firmly inside his wife's pussy.
Lena moaned softly, "You're all I need honey. Make love to me".
In response, Jack took his tongue out of Lena's earlobe. He lowered his face onto hers, his mouth opened wide and captured hers, kissing her deeply. Their tongues danced together, entangled and hungry for each other. The intimacy of their connection made it impossible for either of them to think straight, let alone question anything else. Desire consumed them both, causing them to momentarily forget everything except their last erotic thought.
He continued to kiss her and moved his hands over her breasts. He could feel that her nipples were hard and protruding. He rolled his thumb and finger over Lena's nipples and gently squeezed. As he toyed with her nipples, Jack continued to fuck his wife with his cock.
Lena moaned between her husband's kisses. Her entire body was on fire. Jack's kisses were sending electric shocks to her nipples, which in turn sent shocks to the inner sanctum of her pussy.
"Close your eyes, Lena. Let's imagine, I am a handsome stranger with a studly body", Jack said.
Lena felt her heart racing at these words. It seemed like her husband was intent on probing her secret desires. These desires were ones she didn't fully know she had or had refused to acknowledge. She said nothing but closed her eyes, still trying to process the situation. Despite her initial reluctance, she couldn't deny the intense sexual chemistry of the scenario. The way Jack was speaking turned her on immensely. Was it the explicit language? With her husband playing the role of the fantasy lover, she felt herself growing even more aroused.
Jack instructed, "Now imagine me filling you up completely..."
Despite being caught off guard by Jack's forwardness, Lena gave in to the heat of the moment, allowing herself to fully indulge in her hidden desires. She opened her eyes, and as they locked gazes, Lena felt her chest heave rapidly. All her thoughts revolved around Jack and his bold probing about her innermost wishes - how it had awakened a side of her she hadn't shown him.
Lena lay beneath Jack, listening to his heavy breaths echo in the room. His confidence astounded her – the strangely bold scenario, perhaps suspicions of her secret, something that could potentially destroy many marriages. She looked at Jack, his eyes burning bright with fierce determination.
"Honey, have you fantasized about fucking another cock?", Jack asked again.
Lena hesitated to answer. Her breath quickened, unsure how to respond. On the one hand, she loved her husband. Jack's been the best thing that's ever happened to her. He makes her incredibly happy in, almost, every way. No, that's not right. He makes her happy in every way. He's loving, kind, and incredibly considerate. He makes her laugh. Their lovemaking was good. He makes her have orgasms. Yes, he may not have the best body or the most amazing cock, but the sex was nonetheless good.
However, the truth was, she can't deny having fantasized about fucking someone else. Sometimes, whilst Jack was at work late, when alone at home, she had masturbated to the thought of fucking a stranger. That stranger would be tall, handsome, and muscular. He'd take her by the hand, lead her to the bedroom she shared with Jack, undress her with his hungry eyes, and run his roaming hands all over her body. The stranger would pull the straps of her summer dress off her shoulders and let the dress fall to her ankles. He'd gently kneed her naked breasts with his big hands. He'd play with her breasts and suck on her nipples. He'd do things to her ...
In her fantasies, her lovers were always faceless. There wasn't anyone she fancied in real life. It was just the sheer erotic nature of having a stranger take advantage of her and use her body in forbidden ways, that were reserved for her husband only, which made the fantasies irresistible.
It excited her beyond belief. In her mind, these encounters played out differently each time, yet there was always one common thread running throughout each dream. The stranger would touch her, caress her, and make her crave more until he led her to the edge where reality ended and ecstasy began. This imaginary world, populated by countless unknown individuals, became her escape from the monotonous routine of daily life, serving as fuel for her escapades when her husband wasn't around.
Underneath Jack, Lena's skin was flushed, her cheeks rosy with excitement.
She wanted to push back against Jack's curiosity, to assert that his cock was enough, but she couldn't deny that she did have the type of fantasies he was asking about. Giving into temptation of the moment whilst delirious with lust, Lena whispered truthfully ...
"Yes… yes, I do fantasize, honey."
Her confession sent shivers through Jack's body. Immediately, he increased the tempo of his thrusts to match his lust. As the couple fucked as husbands and wives do, intertwined, Jack tried to hide his insecurities but failed miserably.
"If you want bigger cocks," he said in an attempt to appear strong, despite feeling vulnerable, or perhaps fueling his hotwife fantasies, "then maybe we should find someone who will satisfy you with a big cock?" Jack emphasized "cock" by trusting as far as he would go into Lena's very wet and slippery pussy.
Lena felt Jack's ego crumble under the weight of her confession, and it pained her. Feeling guilty for hurting him, Lena reached out to stroke his arm, attempting to console him. "Honey, please don't worry. It's just a fantasy. Not something I'd like to try for real. You're all I need, remember? ", Lena reassured her husband. "You are my stud. Now fuck me with your ... big ... cock".
"Tell me about your fantasy", Jack asked hesitantly. Unbeknownst to Lena until now, this had been Jack's obsession for a long time. He had been harboring thoughts of inadequacy about his cock for a while now. There was this general disbelief he was married to such an amazing and beautiful woman. This marriage and happiness can't possibly be real, can it? It was too good to be true. To finally get some kind of confirmation from Lena she had been fantasizing about sex with someone else, was both reassuring and terrifying.
Insecurity threatened to consume him, yet his lust burned stronger. "What kind of man do you fantasize fucking?", Jack asked, genuinely interested in knowing what type of guy his wife found attractive.
Lena considered his question carefully. Although she never intended to act upon any of her fantasies, she realized sharing her vision might help alleviate some of Jack's concerns. She was fully aware Jack's cock was rock hard inside her pussy, but he had stopped fucking her. The silence in the bedroom was deafening.
"Well, he's tall, taller than you," she started, giving Jack a chance to compare himself to her ideal partner. "And very masculine, with broad shoulders and defined arms.", Lena started embarrassingly.
"Is it Brian?", Jack asked suddenly.
Brian was Jack's friend from work. He was tall and incredibly handsome. Lena had met him a couple of times at office parties, but not more often than that or in any other setting. Jack had always been somewhat jealous of Brian. Brian was the type of guy everyone liked. Guys wanted to be him, girls wanted to be with him. In his mind's eye, Brian was exactly the type of guy Lena described - tall, muscular, and masculine. If not for Brian being incredibly likable, Jack would have hated such a guy - he was in many ways, everything Jack wasn't and wanted to be.
"No, it's not Brian," Lena said, "It's nobody. Just faceless strangers. You know, just a fantasy".
"Do these strangers have big cocks?", Jack asked.
Lena wasn't sure how to respond. She didn't know why Jack was so insistent on this line of questioning. She wasn't sure what he wanted to hear. Did he want to know her fantasies involved guys with big cocks? Is that what he wanted her to say? Or did he want to know he was a better lover than her fantasy man?
Lena was torn between honesty and protecting her husband's feelings. But before she could decide what to say, Jack spoke first.
"So, tell me then, how does my little cock measure up compared to these big ones you're daydreaming about?" As he spoke, he pushed himself up off her and withdrew with cock from her pussy. He held his erection tightly, feeling like at that moment his cock was the hardest it has been in a long time. Unable to look away from Lena's face, he held her gaze whilst stroking his cock with a drip of precum forming. His eyes dared her to speak the truth. He was filled with anxiety, eager to know if he measured up to her unspoken desires.
Lena swallowed nervously, wondering if she truly had to answer this question honestly.
How did her husband's cock stack up against her vivid fantasies? Even though Jack knew full well he couldn't compete physically with the stranger-lovers in her imagination, she owed him an answer. Finally, she offered, "Honey, you know how much I love you, right? And our intimate moments, too. It's different because..."
Her voice trailed off as she searched for the appropriate response, wanting to express her true feelings without causing further damage to her husband's fragile ego.
Lifting her head, she stared deep into Jack's eyes and told him the brutal truth. "They usually have large cocks," she replied bluntly. "Is that what you wanted to hear?". Seeing shock etched across Jack's features, Lena hurried to clarify. "But that doesn't mean I want to sleep with anyone besides you, darling. My fantasies aren't real. They're just, well, fantasies."
At once, Lena regretted her words, fearing she might have hurt Jack even more deeply.
However, she quickly noticed that Jack seemed less concerned about the comparison of their sex lives and focused instead on the fact that she had admitted to having these fantasies. With a hint of acceptance, he took her hand and pressed it firmly onto his erect member. Lena wrapped her fingers tightly around her husband's cock, noting that only the head peaked out of her small hands.
"How big are their cocks? How much bigger than mine are they?"
Jack continued probing. His heart raced, equal parts terror and exhilaration rushing through his veins. Was he ready to hear Lena admit she fantasized about big cocks? He thought he was secure in his role as provider and protector of his family, but here he stood, exposed, stripped bare by his wife's almost-revelations. He felt violated, like his very identity was shattered into tiny pieces. He needed to know.
"How big are they honey?"
Lena took a deep breath and decided to tell Jack. She knew he might be hurt but could also tell as she stroked his cock that he was incredibly turned on. She tugged his cock and in response he moved further up her body, bringing his cock closer to her lips. Her husband was now on top and in front of her, with his cock firmly in her hand, hard as a rock, Lena described her fantasy lovers truthfully.
"Do you want to know? Ok, Jack. I admit. Their cocks are usually significantly longer than yours, dear." With her free hand, she traced in the air in front of Jack's cock just how long, and she added with a teasing smile, "Not necessarily that much thicker, but longer. Like, several inches longer." Jack looked at his wife, only half believing she was finally admitting her desires and confirming what his own greatest fear and desire was. It was a potent mixture of curiosity and dread coursing through him. Hearing her describe her lovers' cocks was so taboo it was intoxicating.
Thinking about it made her pussy moist up further. She couldn't believe she just said her fantasy lovers' cocks were always longer than her husband's cock. Feeling somewhat liberated with her honesty, not even noticing she didn't hesitate to use the word "cock", she continued.
"Some of them had cocks almost twice as long as yours," she said whilst looking into her husband's eyes intently and waiting for the first shift in reaction.
"They always asked if I preferred their cocks or my husband's. Do you know what I always reply?", Lena asked her husband suggestively.
"Tell me", was all Jack said.
Perhaps fueled by Jack's intense interest and excitement, Lena suddenly became more direct and candid, speaking openly and brazenly about her fantasy experiences.
"I always say I prefer their cocks, because their cocks are so much ... bigger ... than yours. Their cocks are longer so they fuck me deeper. And, thicker so they stretch my pussy like your cock never could".
"I love you, honey. But, my fantasy lovers all have bigger cocks," she confessed with a twinkle in her eyes, realizing that was what Jack wanted to hear. "My lips would spread when I suck their cocks. I wouldn't even be able to fit much of their cocks in my mouth".
Is that what you wanted to hear, my dear husband?
Indeed, she had said what he wanted to hear and deliberately did so to drive Jack wild. Her tone showed she was enjoying teasing him with these dirty words and imagery. She smiled devilishly, watching Jack's facial expressions change dramatically with each word. She found her new honesty and openness liberating. It's as if a weight was taken off her shoulders.
She pulled Jack's cock into her mouth and sucked on the cock head.
"Mmm," she purred, "Far bigger ... longer and thicker. Men with massive cocks that can stretch my mouth and pussy wider than what you have here!"
His jealousy gave way to anger, frustration, and most importantly, arousal. His cock throbbed harder in her mouth. His brain flooded with images of Lena taking on a variety of huge cocks, filling her tight body. He felt possessiveness rising in him, urging him to claim his rights over her body, which was his right as her husband. Yet, despite his feeling of inadequacy, a part of him deep down welcomed the idea of living out his wife's fantasies, seeing what another man's giant tool could accomplish in their bedroom. In some strange way, her confession provided some affirmation of his greatest insecurities.
"Is that what you wanted to hear, honey?", Lena continued to tease her husband between sucks of his inflamed cock head. "Did you want to hear how your naughty wife fantasizes about studs with cocks much bigger than yours?"
"And those studs would fuck me on our bed here, where you fuck me. They'd fuck me on the kitchen counter, and our couch. They'd fuck me whilst you're at work, so that when you come home to fuck me, you'll be fucking a pussy that's already been used", she pressed on. By now, Jack's cock was throbbing and closed to the edge. She knew he would cum soon.
"Are you jealous, honey? Does it make you jealous your wife craves for another cock, not yours? Does it make you jealous ...", she smiled wickedly as she said the cruel words, unsure if she was going too far, "... that my fantasy lovers fuck me better than you can?".
This was exactly what Jack feared – that his wife's fantasies would confirm the insecurities he had regarding his ability to satisfy her. However, hearing the explicit nature of her desires piqued his curiosity far beyond any feelings of jealousy. In reality, Jack knew deep down that his wife loved him completely, regardless of the physical attributes possessed by these illusory paramours.
After all, they were simply fantasies, weren't they? He didn't feel threatened enough to prevent his growing obsession with Lena's carnal cravings. Still, there was a strange thrill in considering the possibility of bringing her fantasies to life. Jack found the idea intensely exciting. This notion consumed every fiber of him at that moment.
Jack realized that he couldn't continue suppressing his desires any longer. The flames licking at his soul demanded satisfaction. He remained uncertain but needed to know. Is this just fantasy or does Lena want to make it real? Regardless of the outcome, he mustered up the courage and declared ...
"If you wish, we can give your fantasies life", he said surprising himself.
Hearing such words spoken aloud struck both of them speechless. Their hearts raced together as their bodies grew hotter with passionate intensity. Here they were, opening themselves to the possibility of a course fraught with danger and uncertainty - yet simultaneously ignited by raw, animal attraction. It seemed that whatever happened next would shape the rest of their marriage, binding them closer together or possibly breaking them apart.
Did Jack just offer to let her fuck someone else?
Lena was caught off guard by his proposal, astonishment mixed with confusion. But despite her initial disbelief, she couldn't help but think about the possibility. What would happen if they allowed her dreams to manifest? Would her fantasies become reality? Is this what she wanted?
As Jack waited patiently for his wife's response, his heart raced faster and faster, just as he stroked his cock faster and faster into Lena's willing lips. Each passing second brought forth an array of conflicting emotions: fear, curiosity, excitement, and ultimately, determination. If Lena wanted to pursue this forbidden journey, did he just offer to let her?
"Lena, would you like to fuck someone other than me? Perhaps someone with a bigger cock, who can satisfy you in ways I cannot?", Jack asked with his heart thumping in his chest so loud he feared he couldn't hear Lena's reply.
She contemplated his question carefully, knowing full well it wouldn't be taken back. She sucked his cock absent-mindedly. This decision marked a significant point in their marriage. Her answer carried immense weight.
"Yes, Jack," Lena whispered hoarsely, struggling to comprehend the gravity of her agreement. Taking a deep breath, she plunged deeper into the realm of taboo desires, fully committing herself to this uncharted territory. "Yes, I do... want to live out my fantasies."
"Are you sure?" Lena continued, genuinely curious about his proposition. After all, she wasn't expecting her husband to suggest, let alone agree, to such a request. To say that Lena was nervous would be an understatement. Even though she had confessed to fantasizing about having sex with strangers with large cocks, she hadn't anticipated putting her desires into action. The idea excited her tremendously but it was intermixed with guilt, causing her insides to flutter anxiously while her nipples grew increasingly hard and her pussy impossibly even wetter.
Her cheeks reddened as embarrassment mixed with anticipation. Jack recalled their marriage vows – 'for better, for worse', promising to share everything. Did this include sharing his wife with other men?
Jack saw the internal battle raging across Lena's face. Nervousness gripped him, the kind that makes one's whole being quake in apprehension.
She asked again, "Are you sure? Do you want me to fuck another man? What if I enjoyed it? What if he makes me cum? Are you going to be ok with that?".
"Jack, I want to be sure. Are you asking your wife to fuck another man?"
"Yes, Lena. I want you to fuck another man," Jack replied, not believing what was happening. "I want my wife to fuck someone, one with a bigger cock than mine," Jack replied resolutely, swallowing hard against the sudden dryness in his mouth. Deep down though, he was anything but resolute. There was no turning back now. He had possibly just committed himself to this path, even if it meant facing potential consequences later.
"You won't be jealous?"
"Yes. No. Yes! But I want you to be happy, and experience what it would be like to share yourself with a man. I'm ok if you want to live out your fantasy."
Jack confirmed firmly, ensuring he was clear with his intentions. The thought sent shivers down his spine, amplifying his erection. He knew that once he gave permission, there was no backing out. As difficult as the concept might seem, Jack held onto hope that by permitting Lena to experience pleasure outside their marriage, it may strengthen their bond rather than sever it.
Nodding, her expression betraying her uncertainty. It was one thing to fantasize about anonymous lovers with big cocks, but quite another to actively seek them out and fuck them.
I'm married to Jack! He's all I need, she thought to herself.
Stunned by his wife's consent, Jack couldn't control himself any longer. He pulled his cock from Lena's hand and erupted, spraying cum all over his wife's face and hair. He squirted more than he'd ever squirted before, his orgasm being so intense it felt like it lasted forever. He groaned loudly, releasing all his pent-up tension as spurts and spurts of semen.
When he finally came down from his high, he looked at his beautiful wife. Her face was wet and her hair had streaks of his cum. At that moment, his wife had never looked more beautiful to him.
Their shared vulnerability drew them together, bound by a common quest for self-discovery and the unknown. He laid down next to her, both marveling at the daring leap they took. Was this just fantasy at the height of their passionate lovemaking, or was this real? What would they say to each other tomorrow morning?
---
Get early access to new chapters.
Support me on Patreon
Hotwiferotica | Patreon
Reactions:
pleasureseakrs, jacques, Okidoki and 4 others