A little fantasy scenario developed into a longer story. hope you enjoy.
The Match
My wife Em had been friends with Jocelyn for quite a few years. We were aware that Joss and her husband Jonathan had a fairly liberal lifestyle and were very relaxed about sexual matters – sometimes to Em's embarrassment. Jonathan had also made no secret of the fact that he would love to get into Em's panties, flirting obviously and outrageously with her at times. Joss didn't seem to mind, and although Em played along she'd made it obvious she really wasn't interested.
So I was somewhat surprised when Em mentioned that Joss and Jon had invited us to go with them to a party evening at a club they belonged to – and that she wanted to go.
I asked if she wasn't worried it would be a bit out of her comfort zone.
"Joss says it's just a bit of fun," she told me. "A little bit sexy, but nothing too wild. I thought it might make a nice change."
I was aware that Em had been dropping a couple of increasingly obvious hints recently that our sex life could do with spicing up a little. Work and domestic life had been taking a toll. Maybe Em was looking at this as a way of bringing a little extra excitement. So I agreed that going to the club with Joss and Jon might be fun.
On the evening we were due to go, Em took a long time upstairs getting ready. When she came down, she looked stunning – she'd taken a lot of time and care with hair and make-up, and was wearing a simple but elegant little black dress. I noticed that underneath she was wearing seamed stockings rather than tights, and finished off with a pair of stilettos, which she rarely wears. When Joss and Jon turned up in a taxi to collect us, I could see Jon practically drooling as he took in the sight. Joss looked gorgeous as well, but she's never really been my type.
Em squeezed into the back between Joss and Jon while I sat in the front seat next to the taxi driver. Em's dress had an unusually low neckline for her, and in the mirror I could see Jon gleefully trying to peer down her somewhat modest cleavage.
We arrived at the club and checked our coats, and looking around I could see that Em and Joss had dressed on the conservative side compared to most of the other women inside. We were ushered in and given a table near to a raised stage area. The hostess who came over to take our drinks order was dressed in a very skimpy 'Agent Provocateur' style lingerie set.
"Would you all like tickets for The Match?" asked the hostess, with a wide grin.
Joss quickly said that yes, we would all like tickets, and the hostess passed us each a slip of paper with a grid showing numbers from one to fifty, and a large piece of card with a single number printed on it. I was number 14, and Em was 15.
I looked at Joss quizzically.
"What's this for then?" I asked. "Some sort of quiz?"
"Oh, it's just a bit of fun," she laughed. "You'll see later!"
Our drinks arrived and we settled down to an enjoyable evening as the club filled up, with the outfits worn by some of the women ranging from revealing to positively scandalous. One slim redhead had a lacy sheath dress that was for all intents and purposes transparent, with a tiny thong clearly visible through the thin fabric and her nipples prominent atop her small pert breasts.
The stage was used for a number of cabaret style acts, with a compere who was very good – camp and with a biting repartee. His putdowns of the occasional heckler were a treat. There were some bands, an excellent drag act, and some dancers whose act stopped just short of counting as an erotic striptease. I looked over at Em and saw that she was enjoying herself, especially after several large vodka cocktails, and was casually but cheerfully batting away Jon's optimistic but persistent advances.
As the booze flowed throughout the club and the audience relaxed, the compere came on stage.
"Now the highlight of our evening!" he announced. "Who will win tonight's round of… The Match!"
There were several suitably dramatic 'ooos' and 'aaahs' from the audience. I looked quizzically at Joss, but she just smiled quietly.
"I know there are some first-timers here tonight, so let me just explain quickly what's going to happen… well, what's going to happen first!" purred the compere.
"This is our take on speed dating. Everyone who's signed up for The Match has a number and a matchcard. We're going to invite you all up to the stage one by one to show us your little number. If you see something you like, just write the number on your matchcard. Boys with boys, girls with girls, we don't care! But remember, you can only choose one – so make sure it's the one that you want!
"Then we take all your cards and see who's a match. If we have two numbers that match, that couple moves on to round 2. So, write your own number at the top of your card, and get your best sashay ready to come up on stage! Let's see you, number 1!"
Joss leaned over to me as a middle-aged guy bounced up onto the stage and paraded around with his number card like a dolly bird showing the rounds in a boxing match.
"Don't worry Rob, they only ever get a few matches – and when they do it's usually couples who arrived together anyway!"
"OK – but what happens in round 2?" I asked.
Her answer was drowned by the crowd cheering as number 1 finished his tour of the stage and was firmly encouraged to leave.
"Just a bit of fun!" is what I thought she mouthed to me.
I watched as others got called up one by one, counting down to my number. I made a mental note as the redhead in the sheer dress went up onto the stage as number 8, the bright lights revealing even more of her slim body and large brown nipples – then laughed at myself as I realised that the chances of her choosing my number to match were zero!
Joss went up onto the stage as number 12 and struck a pose – I had to admit she did look good, even if not as brazen as some of the other potential matches! Jon went up as number 13 and strutted, looking very pleased with himself. Then my number was called, and I climbed warily onto the stage and did my best to look manly and appealing – but probably failing miserably.
As I sat down I saw Em sashay onto the stage. Despite being one of the most conservatively dressed, she still managed to ooze sexuality – at least to my eyes – and she'd slipped the shoulder off her dress to show her black bra strap and casually hitched up her dress to display her stockings. I joined in the enthusiastic catcalls and whistles, and tried to ignore Jon who was very obviously putting a big tick against her number on his matchcard.
Em came back laughing and sat down beside us, taking a large swig of her drink in apparent relief. She's not usually good at being the centre of attention, but she did seem to enjoy her few moments in the limelight. I settled down and watched the remainder of the 'willing volunteers' come up on the stage one by one, some of them looking a little shy and embarrassed, some bold, some obviously just enjoying a laugh with their mates.
Most of the 'matchees' were younger than us, and I did feel a little middle-aged and paunchy in comparison. One girl in a fabulous ballgown with a thin net top showing her breasts looked to be in her early twenties; a guy in a smart shirt and jacket was probably 30; a black couple were probably about ten years younger than us, him tall, buff, and muscled, her petite but with large natural breasts spilling out of a bustier; a girl with long blonde hair who looked as if she could be Scandinavian, wearing very brief cut-off shirts and a halter T-shirt with no bra.
All in, there were 42 individuals who came up onto the stage, with a ratio of about two guys for each woman – there were little scenes being enacted through the room with women obviously refusing to go up, and there were a few gaps in the numbering.
"Last chance to make your match!" urged the compere. "Can't decide? Let's take another look!"
The screen at the back of the stage lit up, and for the first time I realised that there was a video camera pointing at the stage as a montage of images appeared, each individual shown for a few seconds with their number flashing, like a lottery programme. I had to admit Em did look very natural and sexy on the screen.
"So have you made your choice?" asked Joss, indicating my still-blank matchcard.
I smiled and briefly considered writing the number 8 for the slim redhead, but quickly saw sense and put a big tick next to Em's number 15.
The compere was winding up as the smiling lingerie-clad hostess came round the tables collecting the matchcards.
"Time to match! It's too late to change your mind! Grab another drink, loosen your clothing, and get ready for round 2! We'll be back in just a few minutes!" enthused the compere.
"So Em – who have you matched with?" asked Jon, winking broadly.
"Well Jon, I guess we'll find out – or not, if they don't match with me!" laughed Em.
I knew she hadn't chosen Jon's number – but suddenly realised I hadn't seen what she had ticked on her matchcard before she folded it up and handed it back. I kicked myself for choosing her number rather than the redhead – because if she'd also voted for me, we were about to go into round 2 of the embarrassment!
"Ladies and gentlemen! And the rest of you!" bubbled the compere as he bounced back onto the stage. "It's time for round 2! And I'm delighted to say that tonight we have seven matches! Yes, lucky seven! I can feel the lust particles buzzing through the room tonight!
"Now for you newbies, round 2 is very simple. It's just like Tindr – when you get on the stage with your chosen match, you get one more chance. You can each choose to either swipe left, and both sit down, or swipe right and go on to third base. Sorry, I mean round 3."
One of the hostesses sashayed up and stage-whispered in the compere's ear.
"Oh did I forget something? Yes of course, I'm sorry! When each matched pair comes up to the stage, they must be dressed only in their underwear!"
He drew out the word "un-der-wear", making each syllable sound like a sex act.
"Who do we have first? Let's get the first matched pair stripped and up here for your viewing pleasure!"
The hostess handed him a slip of paper.
"Our first matches are… number 3, and number 4!"
There was a huge cheer from the crowd, and some scuffling at the far side of the room before a couple were cheered onto the stage. She was small and cute with frizzy dark hair and dressed only in a French-style floral bra and matching thong – her ass cheeks looking delicious. She was blushing furiously. He was pale, skinny, and pigeon-chested and dressed in loose-fitting boxers. They'd obviously arrived together, and when prompted by the compere made a big show of 'swiping right' with their hands before being led off backstage by the hostess. As they left, the screen at the back showed close-up pictures of each of them in their skimpy underwear.
I leaned over to Em.
"Ummm… I hope you didn't match me, or we could be up there next!" I whispered.
She patted my cheek.
"Don't worry Rob, I didn't choose you. But I think you'd look good on stage like that! It might be fun."
I laughed a little nervously. I wasn't sure whether to be relieved that Em had been sensible enough to choose someone else, or slightly jealous that she hadn't automatically ticked my box. I was aware that she was at the stage of the evening where the alcohol tends to lower her usual inhibitions and makes her a little dangerous – and also horny.
As the close-up pictures of the brunette's perky ass cheeks disappeared from the screen, the compere was reading out the next match.
"Now we have a treat, with numbers from the opposite ends! Our next match is… number 8, and number 37!"
I sat up paying attention to the screen – number 8 was the redhead. And I knew her underwear was minimal! What would she do? Grab a napkin perhaps to cover her breasts?
No – she happily bounced onto the stage wearing just her tiny white thong, to be matched with a well-muscled guy with cropped hair dressed in 'tighty whitey' jockeys that clearly revealed an impressive package. I could see her licking her lips as she quickly made a 'swipe right' signal, to which the grinning hunk immediately responded. They were led away as the screen lingered on close-ups of her bare breasts; I hadn't noticed who she had arrived with, but wondered if there was a jealous boyfriend somewhere in the room.
Joss leaned over.
"They always have a couple of 'plants', just in case there are no genuine matches," she said.
The next pair were also a couple who had obviously been matched away from their usual partners; she was blushing furiously as she was pushed onto the stage by screaming friends, and kept her arm over her cleavage as she struggled to hide her pretty floral bra and panties. The rather hunky older guy she was matched with nodded in understanding as she quickly 'swiped left' while mouthing 'sorry!'
"Well, you can't win them all!" said the compere as the two hurried back to their seats and began to replace their clothes.
"Our next matched pair is number 26 and… number 15!"
I looked over at Em, who had her hand on her mouth in surprise. It took me a moment to remember that 15 was her number! Surely she hadn't chosen Jon as her match? But no – he had been just before us, so wouldn't be 26.
"Come on, lucky couple, get up here!" cooed the compere. The crowd started jeering and whistling.
"Where are you number 15? Number 26?" shouted the compere, peering out into the crowd.
"Over here!" shouted Jocelyn gleefully. "Here's number 15!"
Em had staggered to her feet, and Joss began to propel her towards the stage.
"Uh, uh!" scolded the compere. "You, madam, are over-dressed! Now get that dress off and get up here!"
Joss laughed and grabbed Em, quickly pulling down the zip at the back of her dress. Before we knew what was happening, the dress was lying in a heap on the floor and Em was being pushed onto the stage by Joss, aided and encouraged by one of the lingerie-clad hostesses.
As she stepped into the spotlight, I could see that Em's choice of underwear for the evening had been a sheer black set that I had bought for her last Valentine's Day. Under the bright lights, the fabric was practically transparent, and the soft round mounds of Em's breasts were clearly visible, topped by her little pink nipples that were clearly as hard as glass. The matching panties were full-backs but also totally see-through, and her smooth-shaven pussy lips were clearly outlined against the sheer material.
Complementing her black lingerie were the black seamed stockings I had noted earlier, held up with a lacy black suspender belt. She looked sensational, her body still trim and looking like a woman half her age, and I quickly became aware of my growing and urgent arousal at the sight of her – and the fact that she was being closely examined by every guy in the crowd – and some of the women too. The camera was lingering on her body as it panned across her, the close-ups displayed on the large screen at the back.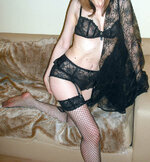 "All she has to do is swipe left though, right?" I asked Jocelyn.
Joss shrugged.
"If that's what she wants," she said. She nodded to the other side of the stage, where 'number 26' was just climbing up.
It was the well-muscled black guy I had noticed earlier, now stripped down to skimpy white shorts, tight to his body and clearly outlining the shape of his large, thick penis. As he took in the sight of my half-naked wife, a slow grin spread over his face, and I swear I could see his manhood twitch and begin to grow to semi-tumescence. Raising his hand, he made a very deliberate 'swipe right' gesture.
Em glanced around, probably looking for me but unable to see anything beyond the edge of the brightly lit stage. I saw her eyes slip down to the growing bulge in the stranger's shorts, and she bit her lip. The camera was close-up on her face as she closed her eyes, and then raised her hand.
She swiped right.
I heard Joss mutter, "Wow Em, you are a dark horse!" as the compere on stage encouraged them to hold hands. She looked a little jealous – and glancing over at Jon, he also had a similar expression.
"Wonderful! We have another match!" enthused the compere. "This lovely newbie lady, Miss Virgin! Or is it Mrs Virgin? Is there a Mr Virgin out there somewhere?"
I paled and waved feebly as a spotlight picked me out and the crowd cheered.
"And our old friend Carl, who we know is very far from a virgin!" continued the compere, putting his arm around number 26's bare shoulder. It seemed 'Carl' was a regular here!
"So on to round 3 you two! Now Letitia, who are our next matched pair?"
As the hostess led Em and her new friend off the stage, the screen was once again showing replay close-ups of my wife in her sheer sexy lingerie and the younger well-muscled black guy with his impressive bulge.
"Em's lucky – Carl's never chosen me as a match," sighed Joss. "I guess I'm just not his type. Thinking about it though, Em very much is! That's lovely lingerie though – did you choose it for her?"
"What happens next?" I asked Joss, ignoring her question. There was no sign of the couples who had been led backstage.
"Round 3! You'll see!" said Joss with a wicked giggle. "I think you're going to need another drink!"
Joss nabbed a passing hostess and ordered more drinks for her, Jon, and me - I noticed she hadn't ordered one for Em.
I was in a bit of a daze as the next three pairs were paraded on stage – one all-female couple dressed in matching white cotton bra and panties, one middle-aged guy who was matched with a younger girl in thong and bandau and who regretfully swiped left after looking out into the crowd and getting a none too subtle signal from what was presumably his wife, and one final pair of a good-looking guy and a busty blonde who came on stage wearing nothing but an ultra-revealing pearl thong barely covering her thick platinum thatch of pubic hair.
I leaned over to Joss and indicated the blonde.
"Another plant?"
She looked startled, then amused.
"No, she's an accountant. She lives a couple of streets over from us."
As the last couple were led off-stage and the lingering on-screen image of her spectacular naked breasts and large dark areolas faded from the screen, the compere bounced back up to the microphone.
"So there we have it! he oozed. "Tonight we have five lovely couples who have moved to round 3! Shall we have a quick peek at what's going on? Let's start with room 1!"
The screen at the back of the stage lit up to show a tastefully decorated room with a large bed, the table beside it holding an ice bucket with a bottle of champagne and two half-empty glasses. The first matched couple sat propped up on the bed, his arm around her and the two of them smooching enthusiastically. Her bra had been removed and lay on the floor, her small breasts bouncing prettily as she leaned across her partner. The screen held for about thirty seconds before going blank.
"Aww, isn't that sweet!" cooed the compere. "What a lovely couple – looks like they're having a good time! But what about our second couple – who, you'll remember, were matched from numbers quite a long way apart. How are these two strangers getting along?"
The screen sprang to life again showing a very similar room and a matching bed, in the middle of which lay the crop-haired guy, straddled by the topless redhead who was leaning forward and enthusiastically kissing him.
"Well, it looks like those two are good at making friends!" said the compere as the screen faded.
"Now, how about our cute Mrs Virgin? Has she been as good at making friends too?"
I held my breath as the screen lit up, showing the now familiar bedroom scene and the large bed in the middle of the shot. Propped up on the bed was my wife, dressed in her sheer black lingerie and stockings, holding a glass of champagne. Lying next to her, very close and with his arm across her shoulders, was the infamous number 26, the bulge in his shorts seeming to be large enough to cast its own shadow. He had his mouth close to her ear, and Em was giggling at something he said. He casually pulled at her bra strap, easing it off her shoulder; Em didn't object or move to replace it.
The screen faded after a few more seconds.
"Well, maybe a marathon rather than a sprint there," said the compere. "But as we know, Carl has the stamina for a marathon!"
My mind was whirling as the screen went through the next matches, each in a separate room. I felt that I should be doing something to stop what was happening, or at least register my objection to it. Why wasn't I? The almost painful bulge in my trousers gave me the answer – seeing Em so skimpily dressed and being touched so intimately by this black stranger was turning me on immensely. I saw Joss whisper something in her husband's ear as they both looked at me and giggled.
The stage presentation was coming to an end. The compere held up a square device he was holding – it looked like an iPad or tablet.
"Well folks, if you want to see how round 3 develops for our lovely matches tonight, just ask one of our beautiful hostesses for your Round 3 Viewer! Remember, each room has a choice of five cameras that you can select for the very best view! You choose whichever rooms you want – and each at a very reasonable price! Who will you choose to peep in on tonight?"
The screen filled with a brief montage of stills from the scenes that had been shown earlier.
I felt a tap on my shoulder and a hostess handed me a screen. "Complimentary for you, sir!" she said.
I noticed that Jon had also obtained one of the devices and appeared to be entering login credentials – presumably he had a pre-existing account.
The screen had five big, numbered buttons. Hesitantly I jabbed at number 3, and was then given a choice of five 'views' – overhead, left side, right side, foot of the bed, or close-up. I chose 'overhead', and the screen lit up with a high-quality image looking down onto the bed from above.
Em appeared to have shuffled down the bed so that she was lying on her back, head on the pillow – she had abandoned her champagne class which was on the bedside table. Carl was lying next to her, propped up on one elbow, as Em laughed at something he said.
The device had an earpiece which I quickly inserted. I could hear Em giggling, but Carl was speaking too low for me to catch what he was saying.
Carl reached over and hooked a finger into the shoulder strap of my wife's bra, gently easing it down to reveal more of the pale soft flesh at the top of her breast. As he slowly peeled it downwards, Em reached up with her hand and placed it over his, stopping the movement. Carl leaned forward and said something else that I couldn't catch, which made Em giggle again.
Then Carl leaned over further, and Em's face was hidden from my view as he leaned in for a deep kiss on her lips. Em didn't resist – in fact, she curled one arm around his neck to pull him closer and return the kiss.
I quickly started pressing the buttons on my tablet, cycling through the different views – first one side, then the other, then finishing up with the 'close-up' view. It was quickly apparent that this one wasn't a fixed camera, but obviously had someone controlling it as it panned and zoomed across the two close-together bodies, ending with a close-up of their faces as the kiss ended, their tongues briefly twining as he pulled back.
As the camera zoomed out, I could see that Carl had taken advantage of the distraction of the kiss to ease down one side of my wife's bra, leaving her white breast totally exposed, her pale pink nipple hard and extended. I had to admit, that was a pretty smooth move, and I envied his ability to pull it off.
Jon and Jocelyn were huddled together over their screen. Jon glanced up and saw me, turning his screen around to show that he was looking at the same image as me – a close-up view of my wife's hard nipple, Carl's dark finger slowly inching towards it across her exposed skin. Joss smiled at me, and I could see that she had her hand in Jon's lap, rubbing his hard cock through his trousers as they both watched my half-naked wife being exposed and fondled by this stranger.
Carl leaned forward, I thought leaning in for another kiss, but instead he lowered his head onto Em's breast and took her hard nipple gently between his teeth, at the same time casually slipping down her bra to free her other breast and covering it with his large black fingers. The contrast of his black skin against her milky whiteness was startling.
The camera zoomed out for a moment to show a full-body view of the two of them, then zoomed in again to centre on Carl's groin, showing his bulge now straining the fabric of his shorts – and my wife's fingers delicately brushing up and down, feeling his hardness through the brief garment.
"Let's get you out of this."
Carl's voice was a deep baritone – something that Em has always found a massive turn-on – and she didn't hesitate to sit up and allow his questing fingers to reach round and unclasp her bra, holding it up briefly as if it were a trophy before dropping it beside the bed. Em's small but pert breasts, now totally unbound and on view not just to Carl but to Jon and Joss and every other person tuned to their channel, bounced invitingly as Carl once again lay her gently down and leaned forward to lick and suck. I heard Em give a little familiar moan as the sensation coursed from her nipple throughout her body – her nipples have always been super-sensitive.
I heard Jon give a little sound of appreciation and Joss mutter "Nice!" as they continued to watch the action on their screen, her hand now delving inside his trousers and his free hand exploring beneath her short skirt.
Suddenly I couldn't bear to watch any more, and jabbed at the '1' button on the menu to change rooms. The frizzy brunette and her skinny partner were naked and making out in the middle of the bed, his hand firmly over her clean-shaven pussy as she held his good-sized erect cock. I couldn't resist choosing the 'close-up' view, and was rewarded with a clear picture of his finger pushing up between her soaking lips.
I pushed '2' on my menu, and revealed the sight of the tiny-breasted redhead riding wildly on top of the muscled crop-haired guy, her panties pushed aside as his long, thick dick pushed up into her. I remembered Joss saying that this pair were probably a 'plant', and they certainly seemed to be putting on a good show.
Channel 4 showed me the two girl partners in their matching panties, but now bare-breasted, apparently having a pillow fight on the bed while screaming and giggling at each other.
Channel 5 showed the big-breasted blonde naked and on her back with her legs wide apart as her matched partner ploughed into her, his bare buttocks pistoning up and down with each thrust.
I heard a moaning sound from Joss, and I looked over to see them both still glued to the screen. I wasn't sure if the moan of pleasure had been at something she was looking at, or at the sensation of Jon's fingers now busily working between her legs. I glanced around the room and saw that around half of the club's patrons were now looking at the portable screens, in pairs, groups, or alone. I wondered how many had room 3 selected, and craned my neck to look over at what the next table to us were looking at. I only got a brief look at their screen, but there was clearly a black body visible.
My finger trembling slightly, I jabbed once again at the number 3 button on my device. It seemed that the view defaulted back to whatever had been selected last, so I found myself seeing a close-up – of Em's little black sheer panties and a large black hand thrust deeply down the front, his fingers curling to pierce her smooth and well-lubricated lips.
I jabbed at the overhead view button. Em was lying on her back on the bed, her head thrown back, her bare breasts heaving, Carl lying next to her with a big grin on his face and his hand embedded firmly down the front of her panties.
It took me a moment to register that Carl was now completely naked, his athletic body gleaming in the room's lights. As I watched, I saw a monstrous erect cock, at least nine inches long and thick around, brush casually against Em's bare thigh above her stockings.
Em's hand seemed to lower of its own volition and curl around Carl's huge member. I saw her eyes widen in shock, and she lifted herself up onto her elbows, her little breasts bouncing happily.
"Wow – show me?" I heard her say.
Carl chuckled and removed his hand from her soaking wet transparent panties and lifted himself up, kneeling beside her on the bed so that the erect monster waved invitingly in from of Em's face. She rolled over and knelt on the bed facing him, reaching down with both hands to wrap her fingers around his thick stem and cup his large full balls.
"Go ahead," he said. "You know you want to!"
Em nodded once and leaned forward, using one hand to guide his huge cock between her lips. I switched back to close-up camera as she pulled as much as possible of his meat into her mouth, her little breasts swaying under her, nipples hard as bullets, as she knelt in front of him.
Jon laughed and turned his screen around to show me what he was looking at – he had the left-view camera enabled, and had a perfect view of Em's pantie-clad ass bobbing up and down as she enthusiastically sucked on his extended cock. Her legs were slightly apart and the outline of her lips, sticky and wet from Carl's manipulation, were sticking to the thin see-through panties. I imagined I could see the outline of her erect clitoris, but at that distance it was difficult to tell.
She must have sucked him for a good ten minutes, as I alternated between the overhead and close-up views, with an occasional glance at her ass from the left-hand camera, before he gently pulled her mouth away.
I was distracted by a movement on the stage as the young couple who had been in room number 1 reappeared through the door at the back dressed once again in their underwear and sheepishly made their way back to their seats to reclaim their discarded clothes. When I looked back at the screen, my wife was lying on her back on the bed with Carl kneeling by her legs, his stiff member waving.
"These are in the way," his baritone rumbled as her grabbed the sides of her panties. I half-expected him to rip them from her body, but instead he began to tug slowly but insistently downwards. After a moment's hesitation, Em pulled herself up on her heels, raising her buttocks off the bed to enable the panties to glide slowly down.
The sight of my wife lifting her hips to willingly allow another man to slip her panties off and reveal and make available to him her smooth-shaved pussy was almost too much for me – I felt myself on the edge of cumming in my pants. I took a couple of deep breaths and closed my eyes, blocking out the sight of her being stripped for his pleasure.
But I could still hear the audio, and it seemed that Carl was becoming chatty.
"OK, now it's my turn," I heard his deep voice say. "Damn Em, you're so white and smooth and tight – just like a little coin slot."
I was shocked to hear him use her name. It seemed somehow intimate. How did he know it? Presumably she'd introduced herself when she was lying on the bed with him dressed in her skimpy undies.
I heard my wife moan in pleasure and opened my eyes to see her lying on her back, legs wide apart, still dressed in her garter belt and stockings. Carl was kneeling on the floor at the foot of the bed between her feet, leaning forward with his head planted firmly between her thighs. Em had her hands on his head, pulling her into him.
"Oh shit Carl, that feels so good!" I heard her say. "Yes there – just there – Jesus!"
Her voice was familiar and unfamiliar at the same time. Those intimate sounds that I'd heard so often, now piped through the room's microphones and the tablet's earpiece.
I swapped to the close-up camera. Whoever was directing the shots had a talent for finding the right angle – I could clearly see Carl's long pink tongue flicking over Em's hard pink clitoris. Judging from the sounds coming from Em, he was skilled at finding the right spot.
Alerted by a noise on the stage I looked up to see the blonde accountant bouncing back through the door. She was smiling broadly and still totally naked as she wove her way through the crowd to her seat to muted cheers and applause. Her partner appeared a few moments later looking a little sheepish and dressed in his boxers.
"No Carl, don't! You'll break me!"
My attention was brought back to my screen by Em's voice through the earpiece. I looked down to see Carl kneeling between Em's thighs, his dark hands holding her knees apart, the swollen pink tip of his enormous penis brushing the entrance to her dark slit.
Carl chuckled.
"I promise I won't," he rumbled. "This isn't my first rodeo. But here – you may find this more comfortable for the first time."
Quickly and skilfully he lifted my wife up and turned her over so that she was lying on her stomach. Pulling on her legs, he positioned her so that she was kneeling on the floor, her body stretched out on the bed. Gently pushing her legs apart, he now had perfect access to her wide-open sex.
The close-up camera zoomed in as he knelt between her open legs and positioned himself once again at her opening. Rubbing himself up and down her wet, slippery slit a few times, he began to push his enormous thick man-meat inside her.
I heard Em gasp.
"No! You're never going to fit that inside me!" she whimpered.
Carl slid a few more inches of his erect rod into her, before pulling out slightly to show how her slippery juices had coated him, then firmly pushing in a little deeper.
Em moaned again.
"You really don't want me to stop now Em, do you?" rumbled Carl.
Em made an unintelligible noise. Carl slid out again then pushed forward, deeper still.
"What was that, Emily? You want me to stop?"
I barely heard her, but I thought what she said was "No".
Carl had his hands on her hips, pulling himself into her inch by inch.
"I can't hear you. Do you want me to stop?" he pushed forward again, a few more centimetres of his hard dark flesh burying itself in her pale body.
On a whim I switched to the foot of the bed camera. From this angle I could see Carl's dark buttocks tense as he pushed forward once again, his long heavy balls dangling between my wife's thighs.
"No!" gasped Em. "No Carl! No, don't stop! Put it all in me!"
I heard a gasp from Jon and looked up to see that his cock was out of his trousers and Joss was giggling as she mopped up spurts of his cum with a napkin.
I switched back to close-up view, and was stunned to see that Carl was now embedded up to the hilt in my wife's wet, stretched pussy, his balls now banging against her flesh as the last centimetre of his thick cock pushed into her. He pulled out about three inches before thrusting into her once again, now seeming to glide easily between her swollen but well-lubricated lips.
Em looked back over her shoulder at him.
"Wait!" she gasped. "What about a condom?"
Carl grunted as he pushed into her once more.
"Don't worry Emily," he said. "I'll pull out."
Em said nothing more for a while but little gasps and moans came out of her as Carl pumped into her with an ever-increasing rhythm. I glanced around to see that Joss and Jon weren't the only ones to have been influenced by what they were watching, with a number of clothes being discarded, breasts bared, and furtive penetration happening around the room.
I barely noticed as the two female partners came back through the door wearing their matching white bras and panties and holding hands. When I looked back at the screen, Carl had flipped Em over once again and she was now on her back, feet on the floor and Carl between her thighs. I watched in fascination at the motion of her little pointy breasts as they oscillated back and forth with each of his powerful thrusts.
Em was screaming now in a way that I'd never heard before, calling Carl's name and urging him on to new endeavours. She's rarely very vocal with me, but here she was begging this stranger to fuck her harder, to fill her up, to give her more.
Finally I saw Carl's buttocks tense, his grin widen.
"I'm close Em," he said. "Want me to pull out?"
"Shit, no!" she screamed. "Fill me up! Give me everything you have!"
Carl's head went back, and with one final push I could see his cock pulse as he began to pump his seed deeper inside my wife than any man had ever reached before. She howled and pushed herself tighter onto him as she felt his warm fluid flooding into her.
My own culmination had come some time earlier, and the damp patch on my trousers was already cooling. I could hear similar groans of satisfaction coming from around the room as Carl and Em's orgasms started a chain reaction from couples, singles, and groups.
Carl chuckled and began to slowly withdraw the considerable length of his man-meat buried deep inside my wife's body. As the last inch came free, the swollen head squeezing between her swollen lips, a river of sticky white fluid pulsed out from deep inside her, streaming down her buttocks and soaking the bedcover.
Carl stood up, his still semi-tumescent cock looking enormous as it dangled between his thighs.
To my surprise, Em sat up on the edge of the bed, her eyes level with Carl's hanging cock. She reached out and held it in her hands, as if measuring it in amazement at how much had been inside her tight little body. Then, with a look up into his eyes, she leaned forward and slowly began to tun her tongue up and down his semi-flaccid penis, licking the mixture of her juices and his semen from him.
The redhead and her partner came through the door with barely a glance at each other. I guess their show was over for the night – which, I realised, meant that room 3 – the one containing my naked wife and the big black stranger – was the only one still available. And yet many of the club's patrons still had their eyes glued to their tablets.
"Wow, go Em!" I heard Joss say.
She looked over at me and giggled.
"Boy, Rob, you sure have something to live up to now!"
On the tablet, Emily had finished her clean-up of her new friend's equipment. Unbelievably, I saw that rather than subsiding, Carl's penis was already starting to grow again!
I heard Emily chuckle, and she wrapped her hand around his hardening cock and pulled him over onto the bed, guiding him to lie down on his back with his head on the pillows. She threw her leg over him to straddle his torso, one knee each side of his toned body, and he reached up to fondle her pointy pale breasts with his big black hands.
The compere's mike came to life as he spoke from the corner of the room.
"Well ladies, gentlemen, and undecideds, it looks like tonight we have a winner. Round 3 has been decisively won by room 3, our lovely virgin and the unstoppable Carl. For those of you who were too mean to shell out for a room 3 ticket, here's a little bonus for you – on the house!"
The screen at the back of the stage flickered to life, and filled with the sight of my wife, dressed in stockings, suspenders and high-heel shoes, sitting astride the stomach of the large, fit, black man, his hands fondling her breasts. She leaned forward to kiss him again – still a shockingly intimate act, even after what I had watched them doing together – and the close-up camera zoomed in on his once again impressively erect penis hovering inches from her exposed and wide-open lips, still leaking sticky white cum from their previous encounter.
The large screen showed a huge close-up as Carl's swollen member began to once again part Em's slippery lips – it must have been eight feet long on the image. It was like watching the most explicit porno movie in an intimate private cinema – except that the pornstar on screen was my loving wife.
The scene switched to long shot as Em slid herself back on Carl's slippery stomach, pushing herself onto his swollen member, this time seeming to take his significant length and girth with ease as he slid his entire length into her. Em's moans and little panting cries came over the speakers as she began to ride him, sitting up once again to give him access to her soft breasts.
I'm not sure how long I sat mesmerised by the sight of my wife projected on the big screen, naked astride the muscular black stranger, but it seemed that Carl lasted much longer this time. Whoever was directing the cameras kept changing the view, and different images imprinted themselves on my memory in freeze-frame; a view of Em's face, head thrown back and eyes closed as she slid back and forth; a close-up of Carl's long black fingers kneading and fondling her pale soft breasts, her stiff pink nipples peeking between his fingers; the view from above as Carl lay sprawled on his back with my wife riding him like a stallion; and of course the view from the foot of the bed as his long, stiff, black penis slid energetically in and out of her swollen, wet, pale, shaved pussy.
Finally I saw them both tense again, and Em cried out as the waves of her orgasm crashed over her and Carl gave one last deep thrust inside her soft body, pumping the second load of his seed inside her. A collective sigh seemed to run around the watching audience – accompanied by more than one orgasmic moan.
Em collapsed onto Carl's prone body, before rolling off and lying on her back beside him on the bed. Her legs were slightly apart, and I could see a thick stream of his semen trickling from her shaved lips.
"What time is it?" asked Em.
Carl glanced at his watch.
"A little after 1.30," he said.
Em sat up, her bare breasts bouncing.
"What?? I need to get back to Rob! Damn – what am I going to tell him?"
Carl chuckled.
"You won't need to tell him anything, Em. I'm sure he'll have seen everything!"
Em looked confused.
"What do you mean?"
"Hey babe, I know you're new here, but you didn't notice all the cameras?"
Em looked around in confusion, then started looking at each of the cameras in turn.
I heard a laugh run around the club at her surprise.
"You mean my husband's been watching all this time?" she asked nervously.
"Sure – your husband, and most of the other people in the club!" said Carl.
Em looked horrified, and grabbed the cover off the bed, wrapping it around her to cover her nakedness, pushing Carl off the bed as she did so. As Carl moved, I couldn't help noticing again just how big his cock was, even now in its mostly flaccid state. How the hell had Em taken all that inside her? And what was she going to be thinking next time with me?
"I have to go!" said Em, tucking in the cover to make it secure. She headed for the door as Carl laughed.
Moments later the door at the back of the stage opened and Em emerged, wrapped in the bedcover. The club erupted into applause, cheers, and whistles as, blushing furiously, she crossed the stage and hurried back to where we were sitting.
"Where's my dress?" she asked Jocelyn, glancing at me and then quickly breaking eye contact.
Joss smirked as she handed Em her dress, and then watched grinning broadly as Em struggled to put the garment on without removing the bedcover.
"It's far too late for that Em!" she laughed as the cover dropped away, revealing my wife with one bare breast still peeping out of the dress she was struggling to replace.
A further cheer pulled my attention back to the stage where Carl was walking out of the door, still totally naked and holding his shorts in his hand. The stage lighting gleamed on his sweaty, muscled body, and he was grinning as he waved in our direction before returning to his own seat and beginning to dress.
"We need to go," said Em.
"No problem," oozed Carl. "I'll call us a taxi. Great show by the way Em!"
Em blushed even redder as she realised what Jon had seen.
"Thanks Jon, but I think it's better if we get our own. Then you can stay a bit longer and enjoy the rest of the night."
The compere had returned to the stage and was introducing the next act of exotic dancers. I couldn't help thinking that they had a tough act to follow.
One of the lingerie-clad hostesses appeared at my elbow. I noticed that at some point in the evening her bra had disappeared and now she sported just two small, tassled nipple-covers on her substantial breasts. She handed me a small flat box.
"This is for you, sir," she said. "Compliments of the house! We hope to see you again soon."
I flipped open the lip and saw that inside was a DVD. The printed label had today's date, and the text 'Room 3 – highlights'.
Jon grinned at me.
"We'll have to set up a movie night!" he said.
Em gave him a dirty look, and then looked back at me.
"Taxi!" she insisted.
I used my phone to order a cab, and by the time we'd said a quick goodbye to Jon and Joss and retrieved our coats it was waiting outside. We climbed in the back, and for the first few minutes neither of us spoke.
I turned to Em.
"Are you OK?" I asked.
She looked at me.
"Pretty sore, I lost my nice underwear, and I still have his cum dripping down my leg," she said. "Otherwise, pretty OK I think."
I could see the taxi driver's ears twitch as he tuned in to listen to what Em was saying.
She turned and looked me in the eyes.
"How about you? Are you OK?"
I took a deep breath.
"That was…" I petered out. Took another deep breath. Tried again.
"That was one of the most intensely erotic experiences I've ever had. Watching you… and knowing that all those other people were watching you… I've never loved you more. I could see how into it you were, how much pleasure he was giving you, and how many times he made you cum!"
Even in the dark I could see she was blushing again.
"So you really didn't know about the cameras?" I asked.
"No! I was kind of focused on other things at the time!"
"And now that you know… how do you feel about it?"
"Embarrassed! Furious!"
She bit her lip.
"…and… kind of turned on, actually. So Jon and Joss got to see too?"
"At the end, EVERYONE got to see – they had you on that big screen at the back of the stage!"
"Oh, shit! Really? So you could all see – everything?"
"Everything – from many different angles, and in full-colour high-definition!" I said, smiling.
"And that's what's on that DVD they gave you?"
"Yes – want to watch it?"
"Maybe. Sometime. We could watch it together."
She snuggled up to me on the back seat. Her coat had fallen open, and her low-cut dress revealed just enough of her breast for me to see that her nipple was once again rock-hard.
She giggled.
"I'm not doing that movie night with Jon though!" she said. "But…"
I looked at her quizzically.
"Well, maybe, sometime…"
I could see her biting her lip again.
"Maybe we could go back to the club again?" she asked.
Reactions:
cynful, DD4fun, 69eatmore77 and 10 others