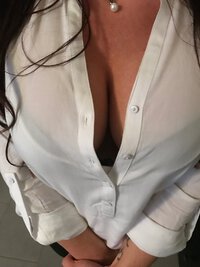 After an excellent dinner at our favorite Italian restaurant, we were in the best of moods and spontaneously decided to go to a friend's bar for a cocktail. She looked great as always, wore her long dark brown hair open, her full lips made up in dark red, an open, light silk blouse over a black tank top, so that her beautiful tits formed a seductive cleavage, a knee-length pencil skirt and black high heels.
We entered the bar, apart from the owner there was no one we knew, sat down right at the counter and ordered a mojito and a gin and tonic. We chatted a bit until a couple we knew briefly showed up a little later. As if by itself, conversations arose, the girls got along splendidly, we guys also discussed this and that, more drinks were added. After some time the door opened and two young men entered the bar, both slim, about early 30s, with short dark hair, one about 1.80m tall, inconspicuous but not unattractive, the other a head taller, clearly more extroverted, tattoos covered his arms and winked out from his collar.
They immediately approached our acquaintances and greeted them warmly, then introduced themselves to us. They liked each other, a new round was ordered, well that could be fun. More time passed, the music loosened the mood, a perfect evening!
At some point I noticed that my wife was teasing the two guys with her cleavage. They had started to take pictures of each other, she pushed her magnificent tits into shape and laughed, pulled her strap top down a little more and had them open-heartedly pictured, the guys showed her the pictures and they were obviously having fun. Had they even realized that she was my wife? The two exchanged meaningful glances, kept blinking in her direction and grinning broadly. The smaller of the two held back a little. For whatever reason - suddenly I thought that he might be the type who, despite his unassuming stature, must be carrying around a huge cock. The bigger one kept taking my wife in his arms, touching her less and less by chance.
I let them, after all I enjoy it when my wife is obviously found attractive and desired, what greater compliment could there be? The music got louder, I turned back to our acquaintance, everyone was obviously having fun and it was getting later and later. Until I noticed that my wife hadn't been in the room for quite a while. At first I thought she must have gone to the bathroom, but she had been gone too long for that. I looked around the bar and noticed that we were the only guests in the meantime, the owner had probably already locked up... and the two boys were also gone.
Since a human need announced itself with me anyway I went downstairs, the toilets were in the cellar, then I could also check for my wife. The door to the ladies' room was closed, so I went to the men's room and did what needed to be done. When I came back into the hall, I listened briefly at the door of the ladies' room - nothing...
Then I heard a strange noise, but it must have come from a different direction, a low murmur, a laugh. I turned around and saw a door with the inscription "Private", it was open a crack and pale light was visible behind it. I pushed it open, behind it was a dark corridor from which several doors led off. On small signs I read "Office", "Warehouse", "Engineering" and "Laundry"... this last door was half open, light was coming from the room, sounds were getting louder.
I crept along the corridor, why was I actually bothering not to be heard? I peered through the crack of the half-open door and saw the taller of the two men first. He was standing there, his smartphone in his hand, probably taking pictures or filming.... and then I saw that he had opened his pants and was holding his hard cock in his hand. He laughed: "Jaaaa, just like that! That will be one hot video haha!" I let my eyes wander, there were big piles of white tablecloths in the room, big baskets of cleaning supplies and clean white cloths sat on shelves against the wall, across from me were several washing machines.... and then I saw my wife on one of the white waist-high machines, she was lying on her back, her skirt was pushed all the way up on her stomach, so she was completely naked down below. Had she not worn panties? Her top had slid up as well, her bra pulled down so that her tits were exposed.... and they bobbed rhythmically, because between her legs stood the smaller of the two guys and fucked her pussy really hard.
I was startled briefly... but somehow probably more about myself, because I could not get enough of the sight. Immediately my cock began to throb and straightened up. What was happening? She looked beautiful, and at the same time really horny and greedy, you could literally smell her lust. She laughed and moaned while the guy rammed his actually enormous cock into her again and again, all the way, she had always loved it that way. "Oh yaaa fuck me!" she cried, the bigger of the two cheering his buddy on.
"There you go, don't you hear the horny bitch going at it, fuck her good!" He filmed her face, then down her body, the breasts with the hard erect nipples down to her wet fuckhole where the enormous prick kept disappearing, down her legs to her feet still in the black pumps. Then he stepped closer to her, she tilted her head toward him and he slid his cock into her mouth. "Look, now she's sucking my cock too, the horny little fuck!" They both laughed.
I opened my pants and freed my now bulging cock. The sight drove me crazy - in the most positive and horny sense. I began to jerk my cock.... and probably bumped against the door, which swung open further. The big one, his thick prick still completely gone in my wife's mouth, turned to me. "Hey, here comes another teammate! This is our queen's lucky day!" Again he laughed. The other turned to me, not stopping the regular motion with which he penetrated her. "Come over, join in!".
She winked at me, let the cock jump out of her mouth and smiled.... Then she took charge. She pushed off the smaller one, the huge prick slipping out of her cunt, shiny from her wetness. She motioned the taller one to sit on the chair next to the shelves. "Now it's your turn!"
She climbed over the pounding hard cock, ran a big load of spit into her hand, rubbed it between her legs, and - to everyone's surprise - put the hard prick right up against her tight asshole. He sat there, she above him, with her back to him, so they both looked at us, a perfect fuck show. She let her pelvis gyrate a little... then she slid onto the standing cock, suddenly it was completely gone in her asshole, he moaned loudly and she started riding him hard and deep. Her tits bobbed up and down as she did so, she pinched one nipple and rubbed her clit with the other hand. "Come here!"
We walked over to her and immediately she began to greedily suck our cocks in turn, always to the hilt until her lips could be felt against our balls. She was sweating, her body was shining and the room was filled with her moans and the smacking sounds of this unusual orgy. It went on like this for quite a while, all of them moving up and down, back and forth, pampering her extensively and helping themselves to her magnificent body at the same time. Until finally, between her lustful whimpers, she said, "Let's go boys, now I want to see you come!" She jerked both our cocks hard over her tits, it was clear what she wanted! At the same time she was riding the cock in her ass faster and faster.... I felt the cum inside me pushing up, not for long... the shiny giant cock in her other hand started to twitch too....
Then I squirted a big load on her plump tits, my comrade-in-arms unloaded as well on the shiny boobs and then we heard the fucker moan loudly, probably his load just went off too, deep into her ass.

 She grabbed a towel from the shelf, stood up, the cock popped out of her butt.... she slid the towel between her legs, cleaned up her splattered breasts, straightened her clothes. "Thanks guys, don't forget to send me the video. Come on honey, let's go home." She smiled at me with bright eyes, took me by the hand, I stowed my cock in my pants and followed her. When I looked around again, they were both grinning broadly. Thumbs up!
Reactions:
Macmachine, Bluetopper, BiggDave56 and 12 others