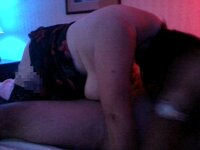 I have posted stories in the past of my 44DD wife, her many threesomes, and more with other men. A while back we had been hooking her up with CL guys for several months and decided a gang bang was a fun idea, fill a room with guys, and my naked / dressed slutty, big-jugged wife will entertain us.
It was to be a gang bang of past men that had fucked her off CL. A series of events happened that led to one guy arriving after the other had left... often minutes after the last guy had dressed and walked out. During each man, I was presently taking pics, and vids and adding my cock to the mix.
This is the story of one of those men.
The wife had just done me and another guy when the next showed up. The first had just left and they probably passed each other in the hallway. The wife was in the bath freshening as I answered the door. Some of the guys she had met and had threesomes previously, but this guy was not one of those. To boost the number of cocks for the night I invited past men and ran an ad to come do her just this one time. He walked in confident we talked in the lounge area of the 2-room suite and discussed a few rules she had in advance, I asked about him and found out he had come from a party and had to return after he got done. He was very muscular, and fit and said he often did wives for other men. Kind of cocky but he was definitely not shy, and seemed like his attitude may put a twist on the whole experience. Most guys start out nervous or shy and the wife would have to work at getting them comfortable, not this one.
My wife stepped into the room wearing this loose-fitting one-piece that barely covered her tits and black thigh highs. The guy stood up said it was nice talking to me and walked over to my wife. He grabbed her chest, told her his name, and said let's get in the bedroom. He told her to lay down as he undressed and for me to get my camera ready to take pics of my wife getting the fucking of her life. I reminded him that I join in and he replied. "Do as you want, but I am telling you I am going to ball her good, your going to want to get a lot of pictures."
I stood to the side as it began. He told my wife to lay back, he had heard she liked a good pussy licking. She went from zero to a hundred in seconds of his tongue touching her. He ate and she moaned as his hands wandered up to her chest to grop her, it was so hot seeing her reacting this way to a guy she had only met 5 minutes before as I snapped away and knelt next to her head to get my cock sucked. She gazed at me in this knowing way and I knew she wanted to change positions. When she gets into sex, she sometimes has trouble communicating other than blurting out words loudly. I saw and she tried..."I,I,I w-a-n-t to suuuck hisss COCK!"
He came up and I repeated to him - "She wants to suck your cock". "It's ready for her," he told me. He stood at the foot of the bed and she sat up. He put a hand on her head and lifted this huge cock up to her mouth with the other. She began sucking, then drooling, then pistoning her head back and forth on his pole. I brought over a back massager and worked her tits and stroked myself. He pulled himself out of her mouth with a loud popping sound as his cock head exited her lips. He crawled past her on the bed as she still sat on the edge. He laid down and instructed me to bend her over at the foot of the bed and do her from behind.
"I want to see those fucking huge tits doing some swinging before I fuck her," I turned my wife around, placed my hands on her hips, and inserted my hard cock. He laid back stroking himself as her floppers bounced. After an orgasm or two, lots of panting and his large cock growing to enormous..."Come here honey, I am ready to fuck you!" My wife obeyed and crawled up the bed to this stranger. Her ass wiggling and tits swaying, she readied herself. He said, "Stoke my cock and tell me you want it."
She wrapped her hand around the lower end of his shaft and said, "Fuck me... I need this."
He asked, "How many have been in you tonight?"
"Two... my husband and one other."
As he rolled her over on her back and positioned his cock head to enter her, he said, "How many more are coming tonight?"
"I am not sure, we invited like 8 and some may bring friends?"
I saw the head of his cock enter her and he said, "Wish I could stay to watch, but I have a bbq to get back to," with that his full cock plunged into her. Her nyloned legs went straight up and she grabbed her calves to hold them there as he pounded into her, I grabbed the camera again. He shouted over her screams, "Get some pics of your wife getting fucked like a slut!" I watched, listened, and did my best to capture the sight. He yelled out "Come here and look at her face!" Her eyes were rolled back and her mouth was wide open. Her juggs were slapping up and down and I could hear her pussy being slapped by the weight of his body and balls.
As I saw his legs start shaking, she stammered, "Cum on my tits."
"You want my load on your tits?"
"Yeeeeessssss"
"Beg me slut!" "Get ready husband, I am going to unload on your wife's udders"
"Please cummmm oooon meeee. Pleasssse" He pulled out hoisted himself up by her tits while straddling her and started stroking slowly. She loves a guy masturbating, and when this heated. can come from just watching him. He bounced it off her juggs a few times. Then he started to tit fuck her...another favorite of hers. She grabbed her own tits and said, "Ohhh yeah, Pump your cock baby!"
A few more minutes and with a growl he yells "I am blowing on her now". A huge spurt erupted from him, most hitting her heaving juggs, and the rest making it across her face. She layed there panting as he and I got off the bed. She asked me for her 18-inch double-headed dildo. I walked him out after he quickly dressed.
Back in the room, I could hear my wife and her dildo. She was cumming hard and the toy squished in and out of her. I have her on film as she is doing herself, and she can be heard saying "I need more COCKS NOW!" "All those hard dicks doing me" "When are more cocks coming?"
Reactions:
mwfofnudistcouple, Icleanup, crmaster and 13 others