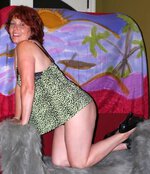 My name is Karen, I've been a shared wife for a long time and this experience took place last summer. My husband and I live in the country just a short distance from our local city. We have a nice private property that allows me to enjoy nude sunbathing and relaxing in our hot tub au natural. Hubby's work requires him to receive a lot of packages at home.
We get courier deliveries every few days so I've gotten to know the drivers a bit and it's fun to chat and flirt with them. I've come close to getting caught sunbathing more than a few times which is always exciting. It was a beautiful sunny day as I relaxed nude in the hot tub, letting my mind wander remembering some of my more memorable sexcapades. I had myself positioned over one of the bottom jets. The stream shoots directly onto my pussy and it never takes long before I'm shaking from orgasm. I have always loved outdoor sex so this is the next best thing when I'm on my own.
On this particular day, I just positioned myself over the jet when I heard a noise and saw the courier truck pull into our driveway. I let a frustrated moan out and climbed out of the tub, wrapping a towel around myself. I dashed to the door trying to keep the towel on and signed for the package. The usual driver (Ted) was very chatty and kept looking me up and down. The towel just covered my ass and pussy so I was showing a lot of leg. I felt the tickle in my pussy as I could see the lust in his eyes. My nipples were hard and I knew they were showing through the thin towel. Ted handed me the package and smiled.
"Look forward to seeing you again Karen."
"Bye Ted", I responded with a big smile.
As I watched him pull away, I dropped my towel and walked back to the hot tub. I could hardly wait to get in and feel the jet pulsing on my soaking wet pussy. Within minutes I was moaning loudly, my body tensing as waves of orgasms flowed through my body. The whole time imagining Ted kissing me, touching me, and fucking me. The next day as I masturbated all I could think about was Ted or one of the other couriers ravaging my naked body until we both explode in orgasm. It was at that point I decided to step up my level cockteasing.
The next day I anxiously waited for Ted to arrive with a package I knew hubby was expecting. I carefully dressed in pair of ultra-short shorts and a light color, thin camisole top that highlighted my big nipples and areola. I applied a small of makeup and stood in front of the mirror.
"I do look pretty good if I do say so myself".
Ted normally makes his stop at our place mid-afternoon. I sat in a chair by the window like a young teenager waiting for her date to arrive. My nipples were hard and pussy tingled in anticipation.
The truck pulled in and I jumped up from my chair, heading towards the door I stopped at the mirror to check again on how I looked.
'Hi Ted, how's your day?"
He looks up, "It just got a lot better, you look amazing Karen." Staring directly at my hard nipples sticking out from under my camisole.
"Oh, thanks, Ted. It's a hot day and needed to dress light. Hope you don't mind?"
"Are you kidding, this is my favorite stop. I always love seeing you and today is a huge bonus. Thank you for making my day." Ted said with a smile, glancing at my eyes and then my breasts.
"I'm so glad you like, I look forward to seeing you too. Do you have many stops left?"
Ted frowned and said, "No, just a couple but I should go and get them done."
I stepped up a bit closer to him and said, "Perhaps you should change your route so I'm your last stop of the day?" Flashing a naughty smile and what hubby calls my 'come fuck me' look. I handed him a piece of paper with my phone number on it and asked him to text me when I'm on his route next.
Ted smiles and says, "Mmmmm, I can do that."
As he drove away my pussy was on fire. I couldn't get to the bedroom fast enough to get naked and pull my rabbit vibrator out of my drawer and into my soaking wet pussy. I'm sure it wasn't ten seconds before I had my first of two orgasms. Laying on the bed, spent, legs spread wide, all I could imagine was Ted laying on top of me after cumming inside me.
Two days later, my phone buzzes, and I get a message that says, Hi Karen, it's Ted, you're on my route today and you're my last stop of the day. My nipples immediately hardened.
I decided to make it even more obvious as to what I wanted. I knew he'd be arriving around 3 pm so I did my errands in the morning so I'd have the afternoon to prepare. Showered, shaved legs and pussy, some heavier makeup, a completely sheer robe, and high heels. It was apparent want I wanted from him but I didn't care. I knew he wanted it too.
On schedule, his truck pulled in. I was as giddy as a schoolgirl. He rang the doorbell and I opened the door.
"WOW."
That was the only thing he said as he looked me up and down seeing all I have to offer through the sheer white robe.
"Please come in," I said.
As I stepped back, he came through the door, dropped the package on a chair, took me in his strong arms, and kissed me. We held each other and kissed, our tongues intertwined together. I reached down and began pulling his shirt up over his head, revealing a muscular chest and arms. He opened my robe and is kissing his way down my cleavage to take each of my nipples in his mouth gently sucking on them making them even harder than they were. If that was possible. I undo his pants and he kicks his boots off allowing me to bend over and push his pants and underwear to the floor. For the first time, I see his hard cock sticking straight out at me. I kiss the tip of it, then open my lips sucking it and feel it swell in my mouth. He gently strokes my cheek and hair as I slide my lips back and forth on his cock.
"Please don't make me cum yet", Ted whispers.
I stand up and kiss him again, taking him by the hand, walking naked towards the bedroom. We fall on the bed together, our hands exploring each other's bare bodies. He gently pushes me onto my back and kisses his way down my body stopping at my nipples, my belly button, and then down to the folds of my soaking wet pussy. His tongue flicks my clit a few times and I'm already well on my way. I now have his hair in my clenched fingers pulling him into my pussy, screaming out as I cum all over his face. I look down to see him smiling up at me.
"Fuck me"
I pull him up on top of me and guide his hardness inside me moaning with pleasure as he stretches me open.
"Oh my god, you feel amazing", he whispers in my ear.
I tell him to roll onto his back. In one motion with him inside, we move as one until I'm laying on him. I begin grinding down on him taking him as deep as I can, moving slowly enjoying every moment of this. I push myself up from his chest and begin riding his hard cock. His fingers are busy rubbing and pinching my nipples, and again my body responds, shaking from another orgasm.
I roll onto my back and pull him with me. My legs in the air, spread wide open, giving my pussy completely to him, my fingers grabbing his ass encouraging him to pump me hard. His rhythm feels amazing inside me.
"Where do you want me to cum", he says.
I smile up at him, "Anywhere you want."
Moment's later, I feel him thrust deep inside me, tensing his entire body. A loud growl escapes his mouth as his primal need takes over. Squirt after squirt fills my belly as I cum with him. As he lays on top of me, catching his breath, his cock shrinking inside me, I feel complete.
We lay together cuddling and recovering, feeling so good.
He looks over at me and says, "Was this a one-time thing?"
"Definitely not," I said.
His big smile said it all.
Reactions:
cynful, CavScout, crmaster and 6 others