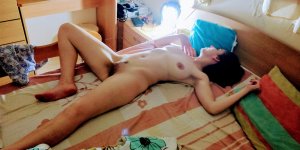 It was four days after the "Dildo Incident," as we came to call it, though looking back it was more like our dildo Rubicon. Heraclitus says, "You can't step twice into the same river." Well, the corollary is that once in the river you can't claim to have never had wet feet, ours were wet, and now we had to continue across our Rubicon.
Sex between us was amazing, we fucked hard and often. I thought to myself that using the dildo was a breakthrough for us because it spiced up our sex life making the sex more intense if not longer lasting. She was more vocal, more profane telling me to, "Fuck your pussy baby, fuck it"
"That's my pussy," we watched and fucked to porn but not exclusively IR yet when the IR scenes came on I could tell my wife's excitement piqued.
About two weeks after our Rubicon, we were lying in bed, and my wife (Jessica) said, "Jim, I want you to fuck me with the black dildo," I was taken aback by her direct nature and matter-of-fact request because she didn't say, "Let's use the black dildo," or "Let's fuck and use the black dildo," but more like a one-sided request that I fuck her with the black dildo. My mind raced through scenarios of me using it on her and fucking her after she cums or fucking her first and then using it on her until she cums, but as I was searching for her meaning Jess said, "Come on, fuck me with it," accompanied by a wicked smile. I nodded approvingly and retrieved the dildo from our closet along with lube. When I came back Jessica was lying naked, looking at me and the instrument, breathing heavy but steady.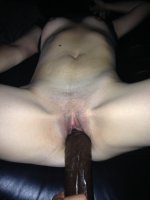 Jessica lay there, her beautiful fit legs spread watching me apply some lube to the dildo. As I held it in my hands I was both mesmerized and emasculated by its size, color, and veiny texture. I began lightly rubbing the tip against her labia making vertical strokes and circular caresses. Jessica propped up on her forearms and watched as if hypnotized by some strange movie lacking sound yet maintaining the force of visual and touch effects. Rubbing, Jess's pussy became wet, glistening with desire and as the previous time the sensation, the desire became too much she reached down and pulled the dildo into her pussy gasping as her pussy opened to envelop the long, thick dark shaft into her pale, pink, white pussy.
Her body tensed, and she used her left hand to secure her position on the headboard as I pushed in the dildo. Her eyes stared intently, then she stared into mine with a look of wonder, "Do you like that, honey"? she asked. I nodded slowly working the dildo in and out of her pussy watching her lips hug it. "Say it. Say you like seeing me fuck that black dick?"
I hesitated not sure if I should then say, "I like watching you fuck that black dick."
Jess collapsed on her back, legs lifted and eyes closed feeling me work it for her before pushing away my hand and grabbing the dildo. Slamming it into her pussy I could tell she was building to an orgasm. Her free hand reached down and began rubbing her clit as I began jerking off at the site of her fucking this inanimate black cock. Suddenly Jess arched her back; I could hear some joints cracking and she let out a deep, low moan that lasted for about 5 seconds before she collapsed on her back. She came and came hard. I did too, shooting my load onto the bed and floor. I snuggled next to her, kissing her cheek and running my fingers through her hair. "I want this for real," she whispered.
"What?"
"I want to fuck a black guy, I want to fuck one for real."
I lay there quietly, simultaneously feeling excited, turned on, and sick. "Is someone hitting on you or is there someone you like?" I asked Jess.
She waited a while, "There is a black guy at work who's been hitting on me for a while now at first, I didn't care but after watching the videos and using the dildo, I don't know, I want to see what it's like for real."
"Have you said anything to him or given him any indication that you want to?"
"No."
"Why not"?
"Because I wasn't sure I wanted to or if it was a passing phase, but after tonight I know it isn't. The whole time you and I used the dildo I thought of him and well, it's one of the hardest orgasms I've ever had, now I want him bad."
Laying there listening to Jessica discuss her feeling, her desires and lust made me both uncomfortable yet secure; uncomfortable because she was telling me she needed, or thought she needed more than I could give her but secure because we both valued open communication, and this was about as honest and open as a woman could get. "I don't know Jess, I mean once we, once you do this there's no undoing it. For me, it's been a fantasy, you know, like a guy who fantasizes about knocking off a bank but will never do it. This is sort of the same thing from my perspective."
Jess lay there for a while, then turning to look at me said, "I understand that, but now I feel a sexual desire for him, and watching these videos makes me realize that doing it isn't unusual even for a woman like me that's married with kids, I mean, shit, you see them too," she said sounding frustrated, almost angry.
"Yea, but fucking another man, Jess? I haven't fucked anyone else…"
she cut in, "I know that but you started this and now that I'm into it you want to hold me back or even turn it off?"
This was going nowhere fast, and I had to defuse the situation. "I know, Jess, I know. I don't like the idea of you sleeping with a man, any man, with whom you work, It's too close to home."
"So if it were a stranger, or someone I met online who didn't live nearby, then that would be okay?"
"I'd at least consider it, but there'd have to be some immutable ground rules laid down."
"Okay, like what?"
"Well, I'd need to be there as much to keep you safe as to watch and get my rocks off."
"That's reasonable," she agreed.
"He'd have to get tested for HIV, Syphilis, Gonorrhea, and Hepatitis."
"Of course, I'd already thought of that so yes, what else?"
"You'd have to use a condom, I don't want to take the chance of you getting pregnant by anyone other than me. I know you're on the pill, but a condom all but makes it certain you won't conceive."
"Agreed, I don't want a kid right now, biracial or otherwise, what else?"
"No gangbangs, or orgies, nothing freaky just regular sex, and either of us, or I mean either of us can call a stop to it."
At that Jess hesitated, "You won't use that to stop it, will you?"
"Only if he got crazy, or if I thought it was going somewhere deviant."
Jess smiled, "Okay, I agree to those terms."
We both sat looking at each other, gauging one another's thoughts and feelings, "How will you meet a guy, how will you decide?"
"There are a few sites I can advertise on, interracial dating sites. I've looked at them already so I have an idea of where to go. I don't want a random hook-up so I'll start there."
I sat listening and when she finished I asked, "Will you let me know how things are going, or let me watch you?"
"Sure,"
We hugged, I was scared, but soon I was watching her mouth devour my cock with a hunger I had not previously known. Jess stroked and caressed my balls as her lips, tongue, and mouth applied pressure and suction building my arousal and sensation until suddenly my cock throbbed and I convulsed in another orgasm. Jess's mouth stayed on my cock, sucking out and swallowing every bit of my cum. She had not done that before, she was already changing.
Reactions:
ausus, mwfofnudistcouple, Darkwingcuck and 9 others