Wife Goes Black, Sort Of​
Four years ago, my wife and I were watching, and fucking to a porn movie. This is something we'd occasionally enjoyed over the years, but this night and unbeknownst to us, we were in for a surprise for inserted into the montage of 15-minute fuck flicks was one of a married white woman fucking a black man. When the introduction came up we stopped dead in our tracks and looked at one another.
"Should we fast-forward through it, or watch it?"
After a few moments my wife, Jennifer, or Jenny or Jenn said, "I don't know, what do you think?"
I thought for a moment and said, "Yea, let's watch it." We stopped fucking, and sat on the couch watching this pretty wife and her black boyfriend feel each other up. It was intriguing not the least of which was the fact that even though Jenn bore no resemblance to the woman in the video I couldn't help but place her in it, I wondered if she was doing the same. The movie quickly picked up speed and intensity, displaying but skipping through foreplay. Still, we get to watch this MWF greedily suck her lover's big black cock and then watched the black man orally pleasure his brunette beauty (Jenn is blonde). When the black guy was licking and sucking on the brunette's pussy I began massaging Jenn's right breast while my other hand began to lightly caress her pussy, she had already been wet from when we were fucking, but I noticed that she was even wetter than before. Her breathing hastened yet deepened as she watched the screen intently and I watched her.
"Do you like this, babe,"
"Yea, I do, it's fucking hot,"
"What turns you on the most about it,"
"Shit, different things, she is into it, and he is into her, his cock is so big and the contrast is hot tooooo, oh shit I'm gonna cum," I could feel her body tense, and then with a gasp, she let out a nice moan as she orgasmed on my fingers. When she finished cumming we watched the movie's climax with first the wife and then her bull both cumming strong it was the last clip on that DVD. My wife and I made out, and then she mounted and fucked me until I came, I came hard, and she kissed me deeply. We climbed into bed, Jenny drifted off to sleep but I lay awake for some time thinking about that movie, and imagining Jenn in place of the brunette.
The next morning we made small talk until I brought it up, I asked if she wanted to watch another video, and maybe make it more realistic? "How?" she asked.
"Well, let's go to the adult store and have you buy a black dildo, and I can use it on you while we watch another movie."
I waited while she considered my proposition, "Okay," was her answer.
That evening we dropped our two sons off at her parent's house so that we could go out for dinner. We went to the adult store, A young lady met us asking if she could help, but we told her that we were okay. We went to the section with the dildos, and my wife and I looked at the selection, I asked, "Which one do you think you would like?"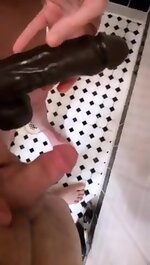 She shrugged, "Can I help you?" said the attendant again. We looked, Jenn awkward and me unsure of what to say.
"Well," I said, "We're looking for a dildo to use when we have sex."
The attendant thought for a moment and asked, "As a primary or supplement to your sex life?"
"A supplement," I responded.
"Did you have any type in particular that you wanted?"
Jenn chimed in, "Well, I already have a motorized one, but... we were thinking of a black dildo."
The attendant smiled, "This is your first, right?"
"Yes," said Jenn.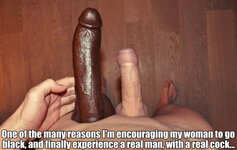 The attendant motioned to one, and removed one from the shelf, "This is one of our most popular items, it's modeled on an adult actor's penis, so it's realistic." I couldn't argue with her there because the darned thing looked very real. "You will love it." The dildo was 9" long, and nearly 2.5" wide, textured, and veiny. Jenn held it and looked at it.
I could tell she was curious, "What do you think, hun?"
Jenn looked at me, "Yea, this one will do," we bought some lube to go with it, paid, and left the store. Soon we were home without our kids, but it was late with no time to play, that would happen at a later date.
Reactions:
mwfofnudistcouple, HrdRob, TellHerHowHotSheIs and 9 others