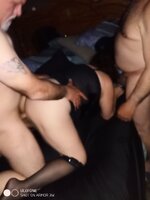 My wife and I attended a swinger party last night and I thought some of you might be interested in our experience.
She was dressed in a blue jean skirt that barely covered her pussy when she sat down, black lace panties, and a button-down blouse that was halfway unbuttoned. I had been playing with her in the car on the way over and she was wet and aroused when we got there.
Shortly after our arrival the host wanted her for his 'birthday' present and she complied, bending over while he pounded her from the rear. He rode her for a while but did not cum in her. As this was going on another man that neither of us knew was watching and stroking his rather large cock.
When the host finished my wife wanted the stranger to fuck her and stuck her ass up and told me 'Get down there and get me wet,' so I was licking her with her asshole in my nose getting her ready to fuck. After a minute or two, she was ready and he proceeded to pound her missionary style.
After a while, she began talking shit in his ear and trying to make him cum (which she is an expert), and getting him fired up. Presently he exploded in her with an impressive load and she told me 'Get down there and clean my pussy' As I was complying she continued to talk shit like 'How does he taste?'.
This was about a third of the night and if anyone is interested I can continue this 100% true tale.
After I finished licking her pussy clean (it required a lot of work due to the amount of cum..I separated her labia and there was a pool of cum over her hole) she put on her skirt without panties and her blouse and returned to the living room. Without sitting down she crooked a finger at one of her past 'friends' and took him into a bedroom telling me to follow.
When we got there she unbuttoned her skirt and began making out with this fellow whispering in his ear and talking smack to me. eventually, she took his pants and underwear off and began sucking his cock. The scene I was watching was her sucking with one leg on the bed and her skirt hanging by one foot with her heels still on and her pussy spread wide open. I took my cock out and had just started jacking when she said she wanted to sit on his cock and that I should remove her skirt and heels.
I complied and with relative ease, she inserted his rather large cock into her gaping pussy. She settled down into a rhythm and my wife asked me if I liked the view and I replied that I did. It was pretty hot as her big ass spread over his angry red cock and worked up and down and squirmed around.
My wife asked him what his fantasy was and he told her that it was to cum in her pussy and she she told him that she was going to make that happen and began bouncing in earnest on his cock. After 10 minutes or so he began thrusting faster and in a minute or so pushed in her cunt and began cumming.
After he was done she dismounted and started kissing and talking softly to him, Kneeling on the bed with her legs widely spread and her ass up in the air. My wife turned to me and said "Clean me up, bitch boy" and continued making out with him. I kneeled and looked at the state she was in with her labia spread wide from all the pounding and her hole, which was gapped about a half inch with semen oozing slowly out.
I began my duties, licking around her outer lips and eventually pushing my tongue as deep as I could get into her stretched hole. As I was doing this, my wife talked and giggled with her friend and teased me about what I was doing and why.
Shortly after her friend exited the room and she put on her blouse without buttoning it, bottomless, and walked out into the living room. My wife summoned another man, who has been lusting after her ever since she met her to follow her into the bedroom. She soon had him undressed and began sucking his cock, which was quite impressive as he is of quite short stature, and as my wife got him ragingly erect she swung her thigh over him and inserted his cock into her.
She bounced on him for a relatively short time as I jerked my cock at the sight of her large round ass spread over his big cock and presently told her that he wanted to fuck her missionary style. She eagerly complied and lay back with her legs spread widely, holding them apart with her hands for him. He mounted her and began pounding in and out of her, alternating with sliding his cock up and down over her mound and penetrating in. My wife told him that he was stimulating her clit and her pussy when he did that and that she loved that.
I had almost come from watching her with the last man and I was unable to hold back after watching her latest antics and shot a load out in what was a quite incredible orgasm. She asked him what he dreamed about he told her that he wanted to cum in her pussy and my wife told him that he was more than welcome to do just that and began talking dirty with him and whispering in his ear. Shortly after he began thrusting wildly and shot a load into her used pussy. Afterward, they lay cuddling for a while and as it was getting late we exited the party shortly thereafter.
My wife is a detail-oriented person so shortly after we arrived home she asked me how her pussy smelled and after researching that particular issue I found myself licking her pussy and removing the last of the remains from our night's activities.
I am anything but a professional writer and apologize for the grammar but I thought that some readers might find this story interesting and I have a few more tales if time allows.
Constructive criticism is encouraged.
Reactions:
uk-cpl, Parasailor, toolman and 23 others