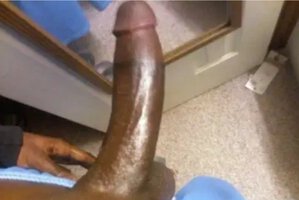 I've been dating my girlfriend Sara for a few years now. A year ago we left our hometown for a new one, where we entered different universities.
Sara is 19 years old, she is a brunette with a height of 164 centimeters. She has an incredibly beautiful smile, green eyes and a perfect body. Her juicy thighs, bubble butt and c cup breasts have always driven me crazy. And sex with her was always incredible, her skills was very impressive, despite the fact that I was her first and she was my first partner.
With such an appearance, she constantly attracted the attention of other guys. But despite the fact that some guys were far superior to me in appearance and physically, she still remained faithful to me. At first I was choked with jealousy when I saw these lustful looks and compliments from other guys towards my girlfriend. But then something strange happend, i started to imagine her with other guys and I was filled with jealous, anger and... lust? I haven't expected this feeling, but it's was slowly getting stronger.
But that feeling intensified after I caught her watching porn. She thought that she was alone at home and decided to have some fun. This was no ordinary porn, she was watching an interracial video of a strong black guy pounding a white girl with his big cock. She watched it on a laptop in headphones, she caressed her breasts with one hand, and masturbated with the other hand in her panties.
At that moment, I was mad at her. She used to say that she didn't like big, muscled guys and was fine with my above-average dick size. But I couldn't hide my boner from her. I was very turned on by the idea that she imagined herself in the place of that girl from porn. After I calmed down, we had a conversation. Sara admitted that she has a dream, she wants to try sleeping with a black guy at least once in her life. But since I'm the first guy she's in a relationship with and we've been together for a long time, she doesn't want to leave me or cheat on me. So Sara quenched her desire by watching interracial porn. I told her that I have long had a desire to see her hacing sex with another guy. So I agreed to an experiment in sex so that Sara can cheat on me once in front of my eyes sometime in the future. But since we live in a city where there are no black guys, I gave her a black dildo to help her out a little. She used it during sex and we told each other our fantasies. This would have continued until her university received an exchange student from Africa.
His name is Alex, he is 21 years old, he is a tall and athletic kind guy from Cameroon with a good sense of humor. Sara immediately became friends with him and began to help him settle in a new country. She realized that this was her chance to make her dream come true. She hang out with him for a couple of months and flirted with him. She tried to seduce him with her revealing clothes and ambiguous messages. He even slapped her butt as a joke. He had beautiful abs that I never had, Sara asked him to send a photo of his naked abs in exchange for her photo in underwear with the excuse that her boyfriend (Me) would not know it. this really fueled his interest in my girlfriend and their communication became even more vulgar. After a while, he threw her a photo of his penis in exchange for her bare chest. He was much larger than mine, about 21 cm, very thick, even and with bulging veins.
My girlfriend couldn't wait any longer, Sara told Alex that she wanted to have sex with him in front of me for a fun and hot experience. Alex agreed, but on the condition that he would do it raw and there would be no filming. We decided on the date of the meeting and Sarah started taking birth control.
When the day of the meeting came, Sara was cooking dinner while being dressed in her favorite evening dress, which she wore to our graduation when we waltzed together. I went to the store to buy alcohol, at that moment I still could not believe that I was buying wine for a guy who would fuck my girlfriend this evening.
In the evening Alex came, he immediately kissed Sarah and grabbed her ass when she came to meet him. We sat down to dinner and talked about Sarah, how we met, admired her figure and asked Alex about his life. After a couple of glasses of wine, we started asking vulgar questions, Alex was openly pawing my girlfriend under the table. At one point, it started to go far and Alex took my girlfriend in his arms and carried her to the bedroom, I followed them.
They kissed passionately while he undressed Sara. She moaned at his every kiss and touch as I sat opposite with a stone boner in my pants. Alex took out his huge dick and my girlfriend moaned even more at the mere sight of it. It was even bigger than in the photo. Sara took off her panties and sat on his cock, rubbing her pussy on it like her boyfriend wasn't in the room right now. Alex pushed his cock into her pussy slowly as she enjoyed every inch of his black cock. When he fully filled her with his dick, she moaned "Oh god, it is so much bigger than him". I couldn't hold back anymore, I took out my dick and started jerking off to it. Alex started fucking my girlfriend roughly, the contrast in her white pussy and his black cock turned me on. The room was filled with the smell of sex, Sara's screams, and the sound of slapping as Alex's cock penetrated her. I finished almost immediately, but the sex lasted another 30 minutes. My girlfriend flowed very much and cummed a lot. Alex ended up cumming inside her, staying inside until all of his cum was in her pussy.
Alex went to the bathroom as I approached Sara with a new boner. She moaned and panted while I wiped the leaking sperm from her pussy with a napkin and was about to insert my dick, but Alex grabbed my shoulder and pushed me back.
I was shocked and wanted to go back, but my girlfriend said "I'm sorry, honey, but tonight my body belongs to him." Right after that, Alex took her by the head and bent her mouth down on his cock, she sucked his dick with same lips that will kiss me everyday.
They asked me to leave. I was very amused and went to sleep in the living room. While I was lying on the sofa, I heard her moans from the next room for a very long time. I'm afraid that such experiment's will become a habit for her...
Reactions:
Lefty, BLACKBULLSTUD, shelli_k18 and 7 others