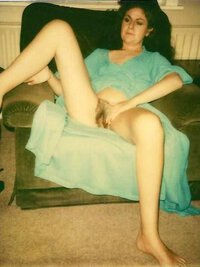 I have been a nude model since I was 18. This was mostly for amateur photographers and Camera Clubs These Clubs were usually just a group of enthusiastic but not very good, photographers, who liked to take photos of the countryside and steam engines and the like, but would sometimes get together and hire a glamour model for a couple of hours.
One evening I went to one of these clubs in a town called Slough. It was quite a long way from where I live but they were willing to pay my travelling expenses so it was not a problem. There were about six men there waiting for me but to my dismay I saw that one of them was the husband of a family friend. Now what where the chances of meeting someone I knew this far from home. Well apparently Steven joined that particular club for just that reason, it wasn't local for him either.
I was early 40s and Steven, must have been 15 years younger than me. He had recently married my niece Janet and the last time I had seen him was at their wedding the previous year. This of course presented me with a dilemma. I was always aware of the possibility that I could be discovered doing something improper, like taking my clothes off in front of a group of strangers and letting them take lewd photos of me for money, and I was well aware of what a lot of people would think. I could of course have just walked out but I decided that the only thing I could realistically do was brazen it out and hope that Steven was not the type to blab.
As the men were setting up their camera equipment and I was sorting out my change of clothing Steven approached me nervously and said "I didn't know you did this sort of thing."
To which I replied, "I didn't know you took these sort of photos."
"Does Your husband know you're a glamour model?"
"Yes he does. Does Janet know you take photos of naked ladies?"
We both laughed and agreed to keep it on a professional basis and not to tell anyone in the club that we knew each other and certainly not say anything to any of the family. I felt a lot more relaxed after that brief chat with Steven and I actually got a thrill of anticipation knowing that a young family friend was about to see everything.
I did three sessions for them. The first in a bikini which I gradually stripped off until I was completely naked. The second in lingerie in which I ended up with just stockings and shoes on. And the last completely nude with me posing in very uninhibited ways with a selection of toys.
I am an exhibitionist and I will happily pose nude with my legs spread wide for complete strangers, but the fact that this time my friend was watching and photographing me frankly made me very wet and when I used the vibrator and dildo, I wasn't just posing, I was enjoying myself and came very close to having an orgasm. There was the usual customary sexual banter and flirting in which I was called names and told to do dirty things. I always encourage this because it breaks the ice and to be honest I enjoy it, but it was all very professional and good natured so when it was finished and I was dressed I simply said my goodbyes and left.
The following day Steven phoned me to assure me that my secret was safe with him and to confirm that I would also say nothing about his activities. He had obviously now seen me in a new light because he asked me if I would consider modelling for him and that he would pay the going rate. I agreed and we fixed a date one evening the following week. My husband went out that evening to give us some privacy but also because I had told him that I intended to seduce Steven in order to ensure his silence I never did charge him for any of the photo sessions, well he was family after all.
During the photo session I made it very obvious to him that I was horny and available and like most men Steven proved very easy to seduce and it wasn't long before we were fucking. Although he was a little over we weight and wasn't very good looking he was quite well endowed and good fun in bed and I freely admit that I was enjoying the attentions of a much younger man. I assured him I wouldn't get pregnant and I was clean but to my dismay he insisted on using a condom. He was a heavy cummer and I suggested he finish in my mouth or over my face. Something his wife didn't like.
By sleeping with him I ensured that he had even more to lose than I did but I was concerned that it was much too close to home and I was well aware that families can be torn apart by such affairs and I didn't want that to happen. But being slightly risky made it even more exciting and I have to admit I was enjoying it. Steven was also enjoying it and told me what a thrill it was being with a sexually experienced uninhibited older woman. You can imagine how I loved hearing that.
The affair with Steven lasted about six months. He wasn't exactly an accomplished adulterer and his wife began to get suspicious that he was seeing another woman. Never in a million years would she have guessed that her husband was regularly fucking her Aunty Linda, but I think he also felt guilty about it so although I would have happily continued we reluctantly agreed to end our sexual relationship and just remain good friends.
Now at family gatherings we give each other an affectionate kiss on the cheek and nobody is any the wiser!
Reactions:
GroovyTrain, BiggDave56, Tina B and 5 others