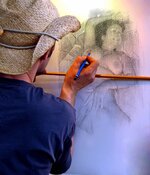 My wife has known for a long time that I get turned on by the idea of her being fucked by other guys. We'd chatted about it and she was even happy enough to play along with the fantasy when we were at home, but I didn't expect it to ever happen.
Then one evening we were chatting with Mike, an artist friend of ours. He's not famous or anything, but makes a comfortable living by giving art lessons and also drawing and painting portraits for the local community.
He just happened to say to us that it was really difficult to get life models, even though they paid quite well.
To my amazement, my wife suddenly blurted out that it looked pretty easy to her and that she wouldn't mind getting her clothes off and lazing around if she was being paid for it.
He looked over at her quizzically and asked if she was serious. He quickly added that he was struggling to find a model for a small art class that he was giving at his studio and would she consider stepping in. I don't think she knew quite what to say, but she didn't want to back down and look stupid, so to my amazement, she agreed.
He suggested that we should go round to his studio before the class the following weekend. We could have a drink and a chat and then later she could sit for his students. He said that if she was too nervous, he'd explain to his students and she could pose in a bikini. I was still a bit in shock, but my cock was certainly registering interest in seeing her naked or even semi-naked in front of a bunch of other men.
During the week we hardly spoke about it and I guessed that she was going to back out. But no, on Wednesday evening she said that he'd sent her a message and she had agreed that we would go round early Friday evening. I couldn't wait.
When we arrived she was very nervous. Fortunately, Mike was calm and gentle and quickly offered us a drink. We sat in his kitchen and drank a couple of glasses of wine while Mike talked about the art class and what to expect.
I could see Jo relaxing as the wine took effect. Eventually, he asked again if she was still happy to do it. He said he'd understand if she'd had second thoughts. Jo gave a nervous little giggle and said that we should get on with it before she changed her mind. With that, he took the bottle and led us to his studio. We'd been round to his house several times, but I didn't realize that there was a small studio tucked away at the back. It was like the stereotypical artists' studio. Messy, full of sketches and paintings with a small area set up for subjects to sit. It had a white backdrop and a little couch with a few cushions. He told her that she could go behind a small screen to take her clothes off. He added that if she wasn't comfortable being nude, she could leave her bra and panties. He told her to get undressed and put on the white robe that he'd left behind the screen and then come back round to the sitting area.
Mike and I made light conversation, but in reality, my mind was racing and my cock was getting stiffer by the second. It was at that point that the front doorbell rang and the students arrived. There were only three of them. One I guess was about 25 and the other two were about 40. Jo came out from behind the screen. She sat on the edge of the couch dressed in a robe. Mike introduced her to the guys and then started talking to them about the techniques that should be used, the importance of form and the use of light and shade, etc. Frankly, I didn't care. I just wanted to see what was under the robe. I wanted to see if she was naked. Eventually, Mike asked if she was ready. When she nodded, he went over to her and held out his hand to take the robe. She seemed slightly reluctant but then undid the belt, slipped off the robe, and handed it to him. She was completely naked. Very nervous, but completely naked. He told her to lie on the couch and get comfortable. She looked fucking gorgeous. I'm not sure if it was just a bit cold, but her nipples were poking out and as she'd shaven her pussy, when she moved we all got a little glimpse of her pink lips. I was so turned on that it felt like my cock might explode. Much as I was enjoying it, the effect of wine was beginning to wear off again and she was quite uncomfortable. He told her that it would be fine if she wanted to back out but then gave a wry smile and added that he hoped that she didn't.
She smiled and told me to pour her another glass of wine. She practically gulped down the wine and then told me to fill her up again. For a few minutes, we all just sat and chatted. She seemed to start relaxing and almost acted as if she was oblivious to her state. I was very conscious that my wife was naked and a close friend and three strangers were all staring at her and enjoying her nakedness. Mike told her to relax and just find a position that she'd be comfortable in. She put down the wine glass and gradually lay back, putting one hand behind her head and the other in her lap. He said that she looked great, but a bit stiff from the waist down (a bit like me!!). He told her to wriggle about and let her legs fall naturally. I was mesmerized as I watched her wriggle around, her boobs jiggled and her legs parted slightly as she let them fall into place. She was a bit drunk and now pretty relaxed. Her eyes were closed and she had no idea that we were all staring intently at her pussy. Mike looked at me and then at the students. Any pretense that the session was still just about art, was rapidly diminishing. She was now lying naked in front of us with her legs spread wide apart and her pussy on full display. Mike told her to put her hand a bit lower. I'm not sure if this is what he meant but with her eyes still closed, she let her hand stray to her pussy and started stroking it gently. I don't think that any of us expected quite what was happening. The guys tried to act casually, but it was obvious that everybody was getting turned on and the two older guys started rearranging their tackle. The young guy even started rubbing the growing bulge in his crotch.
It was at this point that she opened her eyes. None of the guys were pretending to sketch anymore. We were all just looking at her and rubbing our cocks through our pants. I thought that she might be embarrassed and cover herself up, but she just slipped a finger into her pussy. As she slipped it out again, you could hear a slurping noise and it was obvious that the wine and the whole situation had made her very horny and wet.
That's when the youngest guy undid his fly, got his cock out, and started rubbing it properly. She looked over at his cock and then at me and asked if I'd like to tell the guys about my fantasy of seeing her fuck someone else. I was so embarrassed, I couldn't mutter a word, but I didn't deny it. Well, the young guy didn't need any further encouragement. He was instantly standing between her legs with his hard young cock pointing at her juicy open pussy. She looked at me and asked if this is really what I wanted. I didn't say anything, but I nodded. She leaned forward, took hold of his penis, and guided it into her cunt. As far as I was aware, this was the first time since we'd been together that she'd let another guy's cock inside her. He quickly started thrusting backward and forwards, grabbing onto her hips and ramming his cock inside her. The other guys got up, took off their pants letting their erections spring into action, and walked over to her. One of them started groping her tits, while the other one put his cock up against her face. She doesn't like giving blow jobs, but she obediently turned her head to the side, opened her mouth, and let him ease his cock between her lips. He took hold of her head and literally started face fucking her. It was wild. One guy was playing with her tits, another was ramming his cock down her throat and the young guy was banging in and out of her cunt. Not a condom in sight! I noticed that the young guy was speeding up and with a few loud grunts and thrusts, he shot his load inside her. This seemed to set the older guy off and it was obvious that he was now filling her mouth with cum. She tried to swallow, but as he pulled out, cum continued to spurt out of his penis and went all over her face and in her hair. As the young guy slipped out and moved away, we all got sight of her gaping pussy dribbling cum down to her ass and onto the couch. She did not attempt to cover herself and it was obvious that she expected someone to take the young guy's place. The guy who had been playing with her tits started wanking over her so Mike moved in and in a flash positioned himself between my wife's legs. He started rubbing his erect cock up and down her slit, moving the cum around until the whole area was covered. With one hand he lifted her legs up and with the other hand, he started rubbing over her anus. She loves to have her anus played with, but was an anal virgin and rarely let me put a finger inside her ass. She let out a little squeal as he slipped a finger in her ass. He kept slipping his finger in and out of her, making sure that plenty of cum was lubricating her. Then he slipped his finger out, put his cock up against her butthole, and started pushing. She looked up at him with a worried look on her face but didn't say anything. He gently pushed the head of his cock in and she again let out a little squeal. He told her to relax and he slowly eased his cock in further. She pulled a face and it was obvious that it hurt, but he kept going until his cock was practically buried in her asshole. Then he started sliding in and out of her slowly. On each inward thrust, she screwed her face up and made a funny little noise, but at no stage did she tell him to stop. Now he was pumping in and out of her and it was clear that he wasn't going to last long. He grabbed hold of her and made a few deep thrusts. With each thrust, she let out a little yelp, and then on the last thrust he let out a loud groan and it was clear that he'd cum in her. As he relaxed and moved back the pressure inside her pushed his cock out with a little plop and cum poured out of her asshole and onto the couch. With all the attention on her assfucking I think we'd all forgotten about the guy who was wanking over her tits, but just at that moment, cum started shooting out of his cock. There was such pressure behind his cum that barely any of it landed on her tits, but instead splattered over her face. She screwed up her eyes and tried to turn her face away, but not before a generous quantity of cum had plastered her and gone in her eyes. At that, she jumped up, grabbed the robe to wipe her eyes, and ran behind the screen leaving us all standing there looking at each other in disbelief.
Mike looked quite worried. I'm not sure if he thought I was going to punch him. He immediately started apologizing, saying that he'd never intended this to happen and he rapidly bundled the guys out of the room. I wasn't sure what to do next. There was only me and my wife in the room now and she was behind the screen. I sheepishly asked if she was okay. She came out from behind the screen. She was wearing the robe again, but now it was undone and open at the front. She was disheveled. Her makeup was smudged, there was cum in her hair and cum over her body and I think that I could see some cum dribbling down her thighs. I asked again if she was okay. When she smiled at me I relaxed. She walked back over to the couch and immediately lay back, let the robe drop open and spread her legs, and showed me how messy she was down there. She told me to get on my knees and take a closer look at what the guys had done to her. As I got down close to her she asked if I'd enjoyed watching them fuck her. She put her hand behind my head and gently pulled it towards her. I hesitated slightly at the sight of her messy cunt and asshole, but she just kept up the pressure and soon I found my face being pulled into the mess. It smelled of sex and as she smeared it over me, I began to taste the salty mix of her juices and the cum. I relaxed and started licking her from her asshole up to her clit. I realized that my cock was rock hard and was enjoying licking her almost as much as she was enjoying being licked. I heard footsteps behind me and realized that Mike must have come back into the room and could see me licking his cum out of her. I didn't care. I was lost in the moment.
Reactions:
mwfofnudistcouple, fredanddaisy, Krister and 9 others