One time when I was in college I went to the truck stop in San Diego to chase the younger truckers when they stopped on Friday afternoons. I had on short shorts and a halter top with these tits of mine and a pair of heeled sandals. I was tanned, I stayed that way in those days. The drivers who were regulars knew I was not a lot lizard because I never charged for having fun, the older drivers always said I was too pretty to be a whore.
I met this young guy in the diner who came on to me. this young guy asked me to sit with him at a booth in the back of the restaurant, I got in the booth and he slid in next to me. The waitress took our order, I just wanted a coffee. I could feel his hand on my thigh rubbing my tanned legs. His fingers began to rub my crotch, I could feel him unzip my shorts and his fingers begin to explore. I heard him whisper "You don't have panties on." I smiled as his finger slipped into my cunt. I sat there being fingered as I had never been fingered when the waitress brought our order, he never missed a stroke. After she left he pulled it out and stuck it in my mouth to lick off the juices. "Suck that, you little tramp," I eagerly cleaned his hand with my tongue.
After we finished eating he paid the check and we went out to the truck lot. There's my rig over there pointing to a big red Freightliner with a sleeper cab. I followed him to the truck. My shoes were a bit slick on the tank steps, I could feel him grab my ass as he pushed me up into the cab.
I'll never forget the interior, it was black velour with captains chair seats that were deep and cozy. He took me back to the sleeper which was the most comfortable thing I'd ever seen. Radio, TV, cassette tape player, it had everything. I sat on the bed as he stood holding the grab rail above me. I undid his pants almost instinctively his beautiful cock sprang from his underwear and fell to the tip of my lips. I took him in my mouth and began to moisten his shaft with my spit. I felt his hand guide my head deeper and deeper, as I felt his cock began to close my windpipe I started to choke but I knew I had to stay calm and let it go deeper into my mouth. As my lips began to go flush with his crotch his pubic hairs in my nose.
He took my hair and pulled me back. I coughed and gasped for air. 'You just deep-throated a cock you little slut!!' Despite all the whoring around I had done in high school and college this was the first time I had deep-throated a cock, I was proud of myself because I knew what a skill that would be later.
He stuck his cock back in my mouth and we went at it a few more times until I had the hang of it. Overcoming the gag reflex is an art that some never achieve. Learning how to breathe with a cock in your throat is a serious talent some never achieve. After about five times he unloaded in my mouth. His cum shot down my throat like a waterfall, it was sweet and I loved it.
He zipped up his pants and fastened his belt. "Got to stay on schedule girlie." As I climbed out of the cab I felt kind of sad I had wanted a roll in the sack with this guy. I could hear his air brakes disengage as I walked to my car.
Giving blowjobs at the truck stop is one of my cherished memories. I was young and hot and I felt like I was making some lonely men a little happier.
Rubee
pic of young Rubee rollerblading in Venice CA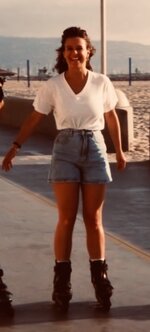 Reactions:
gingercuck, obeahbrown, NaughtyJack and 20 others